Religious brother honored with national award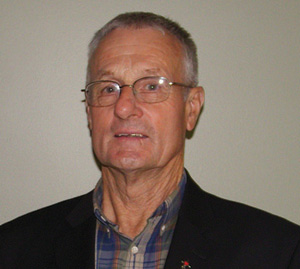 By Megan Walsh 
The Catholic Telegraph
Missionaries of the Precious Blood Brother Nick Renner has received the 2013 Edwin Vincent O'Hara award for his dedication and passion toward rural conservation.
Born and raised near Delphos, Ohio, 15 miles outside of Lima, Brother Nick has always known rural farming life. He has served as a religious brother for more than 50 years and agriculture and conservation have been his passions.
The Edwin Vincent O'Hara award was created to honor the legacy of Archbishop O'Hara, who founded the National Catholic Rural Life Conference (NCRLC) in 1923. Archbishop O'Hara began as a priest and later served as Archbishop of Kansas City, all the while zealous for rural life, social justice and the spiritual formation of Catholics.
Brother Nick was chosen to be the 2013 recipient of the O'Hara award because of his great involvement in Mercer County. Up until seven years ago, Brother Nick worked the 500 acres surrounding St. Charles Senior Living Community in Carthagena. He now serves as lay pastoral minister at Immaculate Conception Parish in Celina.
Along with serving the parish, Brother Nick now manages the farmland in Carthagena that is rented to community members. He also serves on the Soil and Water Conservation Board for Mercer County.
"We're strong promoters of conservation because we respect the earth as God's gift," Brother Nick said in a phone interview. "Conservation of the land also respects you as my neighbor."
Reflecting the "Edwin culture," Brother Nick strives to educate community members about responsibly caring for God's green earth.
Because the soil is highly erodible, Brother Nick promotes no-till farming and cover cropping. Two practices that support healthy and safe farming.
"Cover cropping is having something in the ground year round," said Brother Nick. "It helps against erosion."
Advocating for conservation means planning for the future.
"The decisions we make affect the next generation," he said.
Receiving the O'Hara award was a surprise.
"I wasn't expecting it, but it is a huge honor," said Brother Nick. "I want to use it to help promote the Catholic teaching on soil conservation."
Brother Nick understands that we are never done learning, especially with nature.
"We need to learn to work with Mother Nature and not expect Mother Nature to work with us," he said.
Brother Nick believes the O'Hara award is more about the cause, conservation and preservation, than the founder of NCRLC's legacy.
"It's about Catholic social teaching, educating others, conservation, and helping people change," said Brother Nick.
He plans to exemplify the message of conservation and preservation by continuing to live it on a daily basis.
There will be a prayer service and celebration to recognize Brother Nick's achievement on Oct. 13 at St. Charles Senior Living Center at 2 p.m. All are invited to join in the celebration.