Seniors stories: Passing on a legacy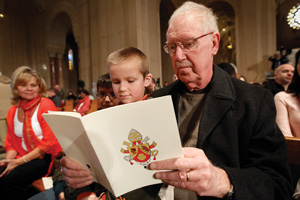 By Catholic News Service
LEVITTOWN, Penn. — Considering how rapidly the world has changed in the past 100 years, the senior members of families and parish communities have a wealth of memories, which, if shared and preserved, can provide a fascinating and lasting legacy.
The American Folklife Center of the Library of Congress describes folk life as the everyday and intimate creativity that all of us share and pass on to the next generation from songs, dances, games and communication of beliefs.
Diaries, photo albums, letters, home movies, business records, and artifacts all form part of the legacy elders can pass on, but audio and video recordings of elders' memories of their own lives — and of the lives of their parents and grandparents — are relatively simple and immediate way to gather and organize a legacy for future generations.
Families, organizations, and parishes are among those now collecting such oral histories.
The Library of Congress Web site — www.loc.gov/folklife/familyfolklife/index/html — offers tips for setting up a formal oral history project, from determining the scope of the project, considering who will organize it, what equipment will be needed, to deciding on the ultimate destination of the project's results. It emphasizes the importance of obtaining releases from those interviewed, and also provides examples.
It also offers tips for interviewees, advising them to do the following:
Ask open-ended questions.
Use follow-up questions
Allow the interview subject to go off in another direction if a question reminds him or her of another topic.
Limit the interview to about one hour.
Recordings need to be stored in a way they can easily be retrieved; for example, digitally recorded interviews should be moved for longer-term storage to a hard drive.
For about two decades, parishioners at Christ the King Parish in Oklahoma City, Okla., have been taking an active role in obtaining senior stories.
Pam Cullen, director of senior adult ministry for the parish, said the Life Story Project began with a parish staff member's project for his master's degree in adult education. The project was so successful that now the parish publishes a book each year with photographs and biographies of its older parishioners.
The parish connects its senior parishioners willing to take part in the project with pairs of seventh graders from the parish school. The 12-year-olds interview the seniors and write biographies with the help of their English teachers; the seniors provide old and contemporary photos.
Stories include games the seniors played when they were 12 as well as how they met and courted their spouses, what kinds of work they did as children and adults, and information about how their families came to live in the United States and in Oklahoma.
One older parishioner hesitated to get involved in the project because she thought her life was too ordinary, but she said that when she began talking with her interviewers, she realized that in 82 years there's a lot of change in the world.