Rwandan Student Found Sanctuary in Dayton Catholic Schools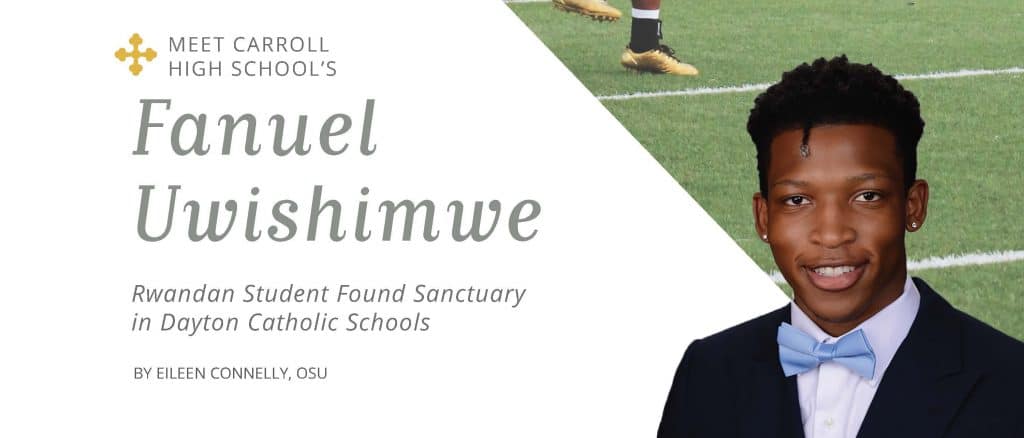 You never know where God will lead you. For Fanuel Uwishimwe, it was a journey from Kigali, Rwanda, to the football field at Carroll High School, from which he was graduated in May.
He made the journey from the East-Central African country to Dayton with family members in 2009 at the age of five. "My dad was already in the United States working, trying to make enough money for the rest of us to come here," Uwishimwe explained.
Because he was so young at the time, his memories of life in Rwanda are limited, but his parents have shared stories about the ethnic strife, civil war, and genocide that ultimately left the country in shambles in 1994. "They've told me about alarms going off, barricading themselves in the house, trying to flee to another country, hoping things would get better," he said. "We're lucky to be here after all of that happened. If things had gone differently, my parents could have been killed."
Uwishimwe initially attended public school as his family became settled in Dayton. Believing in the value of a Catholic education, his parents eventually transferred Uwishimwe to Our Lady of the Rosary, then Ascension School. It was there that the eighth-grader caught the eye of Pete Williams, a 1998 graduate of Carroll High School involved in coaching youth football and track. Carroll, where Williams now works director of advancement, was the natural choice to continue his education, Uwishimwe said.
A natural athlete, he quickly became involved not only in playing football at Carroll, but also participating in track and basketball. In addition, Uwishimwe found a caring community, committed to nurturing his faith and gifts.
"You can just tell how much the teachers care, how dedicated they are to helping you, to your success," he said.
He recalled struggling with biology, in particular, during his freshman year. "I just wasn't getting it all and really needed help. Mrs. [Laura] Wright [science teacher], worked with me and wouldn't give up on me until I understood."
One class Uwishimwe found to be particularly interesting was a government course taught by Erik Ramsey. The young man admits he was "never much into politics" prior to the class, but quickly realized how much he enjoys discussing current events and learning about other people's points of view. "It also really helped me become more confident about expressing my opinion," he said.
The strong sense of community at Carroll became especially evident during the height of COVID-19. The cancellation of regular school activities, protocols to follow, and schedule changes were a challenge for everyone, but the example and leadership of the faculty made all the difference.
"It was hard not doing what we normally do, but the teachers kept emphasizing that we're in this together and that we're all one, so that helped," Uwishimwe explained.
Along with his teammates and fellow members of the Class of 2021, he was grateful that things returned to close to normal for their senior year. They played the usual football season in the fall, minus the pep rallies, and had prom as scheduled.
Uwishimwe will soon be heading to Otterbein University, where he hopes to major in sports management. He credits his parents' faith and courage, and the Carroll community, with helping him achieve success on the path that God laid before him.
This article appeared in the August 2021 edition of The Catholic Telegraph Magazine. For your complimentary subscription, click here.