Sam Wittmann: Carroll High School Student blends Faith and Art
by Bonny Van
Sam Wittmann is not a typical high school junior. He's an exceptional artist who has drawn the connection between his art and his faith, thanks to a class assignment.
"The project was a study of drawing hands from life," explained Renee Merland, chair of the visual arts department at Carroll High School in Dayton. "Students used their own hands as their reference and chose one object to hold in their hand that was symbolic or meaningful to their life."
The result was an assortment of artwork featuring childhood toys or small stuffed animals – even favorite foods and beverages made the cut. Against the backdrop of typical teenage memories, Wittmann's work, a color pencil drawing of his right hand holding a rosary, showed profound depth, both artistically and spiritually.
"When I was assigned the project, I was thinking of things that were significant to me," said Wittmann. "I was scanning around my room, and I caught a glimpse of my rosary… a gift for my First Communion. I decided to use it because I realized it had been a part of my faith journey from the moment I started receiving the Eucharist."
Wittman recalled when he was younger and had trouble falling asleep or was going through a tough time, his parents told him "the best thing you can do is pray the Rosary."
"I can tell you without fail it always works, so praying the Rosary has always been there," said Wittmann."It actually got me through some of the lowest times in my life, so it's always been there, just a few feet from me."
Wittmann said he wanted the crucifix to be the "main focal point" of the piece, which expertly depicts light and shadow on both the rosary beads and hand.
"The drawing gives the viewer a glimpse into this intimate moment with God, as it focuses on the simple human hand wrapped in the complexity of the spiritual mystery and blessing of the rosary. The hand is symbolic in that we hold and touch what is precious to us, Merland said.
Carroll High principal Matt Sableski, who also happens to be Wittmann's uncle, said teachers finding ways to connect their content to the students' journey of faith is central to the school's mission.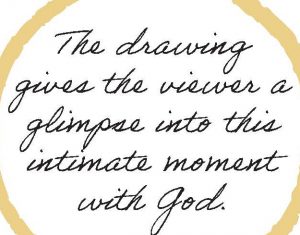 "The visual arts provide so many vehicles to make that happen," Sableski said. "I am very proud of Mrs. Merland for providing these opportunities and for Sam for expressing himself in this way. He is truly gifted!"
Wittman is vice president of the National Art Society and coxswain and captain of the men's varsity rowing team for the Dayton Boat Club. His future plans include using "the talents God gave me" to continue his studies in a creative field such as art, architecture or graphic design. For now, though, he is pleased to know his art is touching others in such a dramatic way.
"I guess I want everyone to enjoy it as much as I have – helping to make someone's day better or slightly more manageable, because I know we're all going through a lot of stressors right now," he said. "Hopefully, the viewer shares some of my own pride and fascination with the craft of art."
This article appeared in the February 2021 edition of The Catholic Telegraph Magazine. For your complimentary subscription, click here.