Serra Club membership skyrockets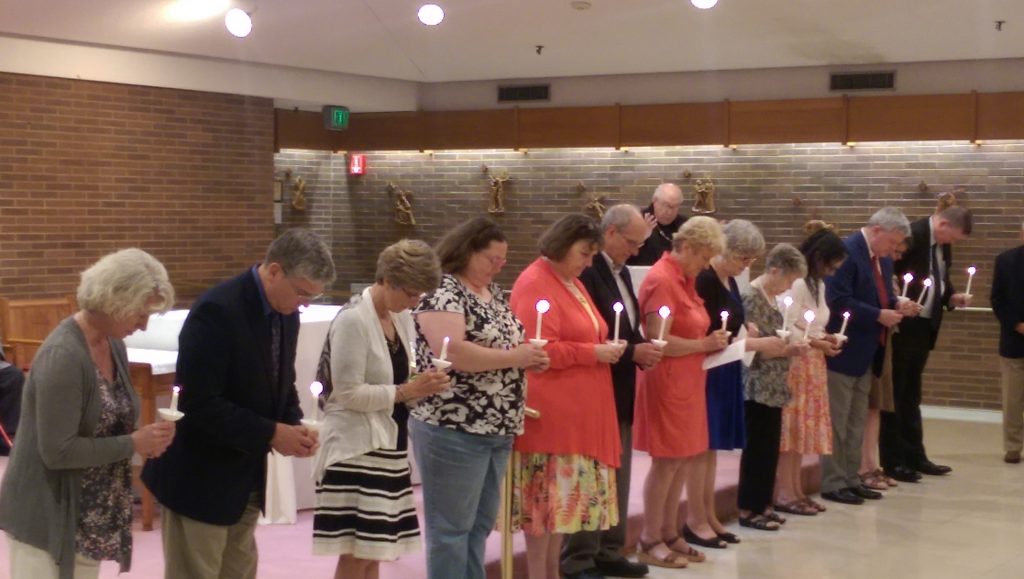 More than a dozen people were inducted into the Serra Club of Cincinnati at a ceremony May 22, "by far the largest number in many years, probably since the 70s," said President Wayne Topp.
Serra International is a lay apostolate that promotes vocations to the priesthood and consecrated life. Members of local chapters pray for vocations at home and together, but also hold or assist at events. Among its other activities, the Serra Club of Cincinnati hosts the reception after the annual ordination Mass, holds a dinner for the priests who participate in the spring Chrism Mass, and holds a yearly Bible Reading Novena.
"The energy for vocations seems to be moving with the increased number of seminarians!" said Topp, who is also associate vocation director for the archdiocese.
At the ceremony, hosted by the Little Sisters of the Poor in Clifton, Bishop Joseph R. Binzer celebrated Mass for the members and spoke at their annual banquet.
The Serra Club meets twice a month after 11:30 a.m. Mass at the Cathedral of St. Peter in Chains, and members commit to pray for priestly and religious vocations every day. Guests are welcome at all meetings. For more information or for an application to join, see the club;s website: Cincyserravocations.org.
he new members of the Cincinnati Serra Club:
• Beth Dobrozsi
• Doug Dobrozsi
• Debbie Feist
• Mary Freudiger
• Kelly Geoppinger
• Jane Hoffman
• Bruce Russo
• Sharon Russo
• Michael Schaefer
• Julie Van Hoose
• Julianne Wernke
• Lori and Steve Lutz