Service, faith, academics, activities: Meet Carroll High School Graduate Dallas McDonald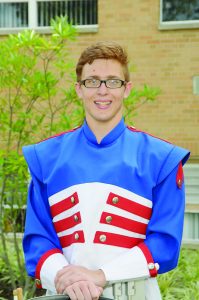 Recent grad found community, confidence at Carroll High School
From the time Dallas McDonald was just a toddler, it seemed like the odds were stacked against him. His parents separated early on, and both his father and step-father died of drug overdoses. His mother was in and out of jail and passed away when he was six, and he ended up in the custody of his grandfather, Michael.
Fortunately, McDonald found community and confidence in his Catholic faith, especially during his four years at Carroll High School. He came to Carroll after attending grade school at Holy Family and Our Lady of the Rosary in Dayton. McDonald admits that it was initially a rough transition.
"I was pretty scared my freshman and sophomore years," he said. "It was very overwhelming, I kept to myself most of the time, and I really struggled with my grades."
McDonald ultimately came to realize that "I couldn't do it alone," and reached out to his teachers, who "really understood me and helped me turn it all around."
He began to excel academically beginning his junior year, bringing up his overall GPA up to a 3.5 while taking Advanced Placement courses. He also earned recognition as a Commended Scholar for his performance on the National Merit Scholarship Qualification Test.
Along with his academic success, McDonald found a sense of accomplishment through his involvement as a drum player in Carroll's marching band, jazz band and jazz combo.
"Dallas is an extremely talented musician," said Michael Franz, communications director at Carroll. "He has been scored the highest possible rating from the Ohio Music Education Association for his solo performances and has served in a leadership role in the marching band."
His greatest accomplishment at Carroll, said McDonald, said has been learning to "rely on God and other people. The way Catholic education is integrated into our classes at Carroll and how we're taught to apply our faith to our daily lives been very helpful for me," he said.
"Carroll has changed me dramatically," he added. "I can't even explain it sometimes. The foundation in my faith that I've received here, the sense of community, my teachers and friends…I wouldn't be who I am without them."
McDonald hopes to continue his education at either the University of Cincinnati or Case Western Reserve University, studying biology and eventually attending medical school. "I have a natural love for and understanding of science and really want to harness that in a way that will impact other people," he said. "I get satisfaction from helping others and seeing them smile."