Sister lives what God calls her to do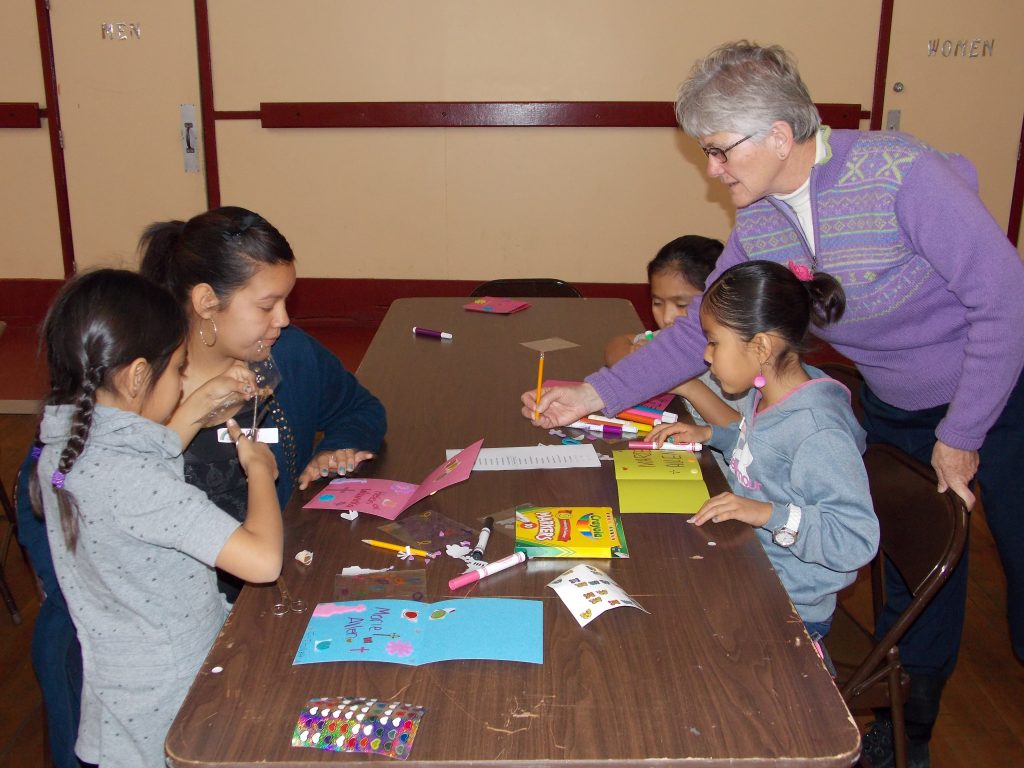 In describing her ministry to the Navajo people, Sister of the Blessed Sacrament Zoe Brenner simply said, "I'm just doing what God is calling me to do."
But there is much more to it for the Reading, Ohio, native who entered religious life in 1966. Her community, founded by St. Katharine Drexel, focuses on serving primarily, but not exclusively, Native and African American people.
Sister Zoe attended Sts. Peter & Paul for grade school before going on to Mount Notre Dame and Our Lady of Cincinnati, where, she said, "The Holy Spirit zapped me in the head and I know this was it."
During the first part of her ministry, Sister Zoe found herself moving every three to five years as part of the sisters' African-American apostolate. She served as a teacher, then as a principal, in locales such as Gary, Ind., Washington, D.C., Houston and Harlem.
"I really enjoyed being in the inner city, just being part of parish life, serving the people and sharing their faith," Sr. Zoe said. "It was so enriching for me."
In 2002, after a stint as her community's vocation director, Sister Zoe traveled Arizona to serve at St. Michael Indian School, established by St. Katharine a century earlier.
For the past eight years, she has been involved in pastoral ministry, primarily at Our Lady of the Blessed Sacrament in Ft. Defiance, and St. Barard in Navajo, N.M., both in the Diocese of Gallup.
She has been inspired by the memory of Sister Marguerite Bartz, who was murdered on the Navajo reservation in 2009. "I saw what she was doing — being with the people, strengthening their faith, helping them to become devoted Catholics," Sister Zoe explained.
"Sisters and priests aren't able to get to all the places on the reservation. We're there to empower the people. They're the ones that will be carrying on the faith."
Her ministry was initially challenging, said Sister Zoe, as she worked to gain the peoples' trust and build relationships. "They are a quiet people until you get to know them. Then they joke, become friendly and even pay tricks on you."
Life on the reservation can be difficult, she admitted. The people are poor and jobs are scarce. Their faith, however, is strong, as they strive to balance practicing Catholicism with following their traditional ways. "You just scratch the surface and their spirituality comes out," Sister Zoe said. "We bless the Four Directions. They speak of the Great Spirit and are very aware of nature."
There is no such thing as typical day for Sister Zoe, whose tasks include coordinating religious education, sacramental preparation, assisting with liturgies, and mostly, "just being available to the people. We are family," she said.
From her work in the inner-city to life on the reservation, Sister Zoe's ministerial experiences have provided the opportunity to grow spiritually and personally. "I've been really blessed to be among the African American and Native American communities," she said. "It's helped me to realize that we have more commonalities than we do
differences. I've become more accepting and compassionate and less judgmental."
"It's been very lifegiving for me to have lived this life for 50 years and know that it's not over yet," Sister Zoe added, noting that the people she serves continue to affirm her call. "They're so open and caring. I feel very close to all of them. I get as much from them as they get from me. These are people of God."