Sister of Charity of Cincinnati Romina Sapinoso Professes First Vows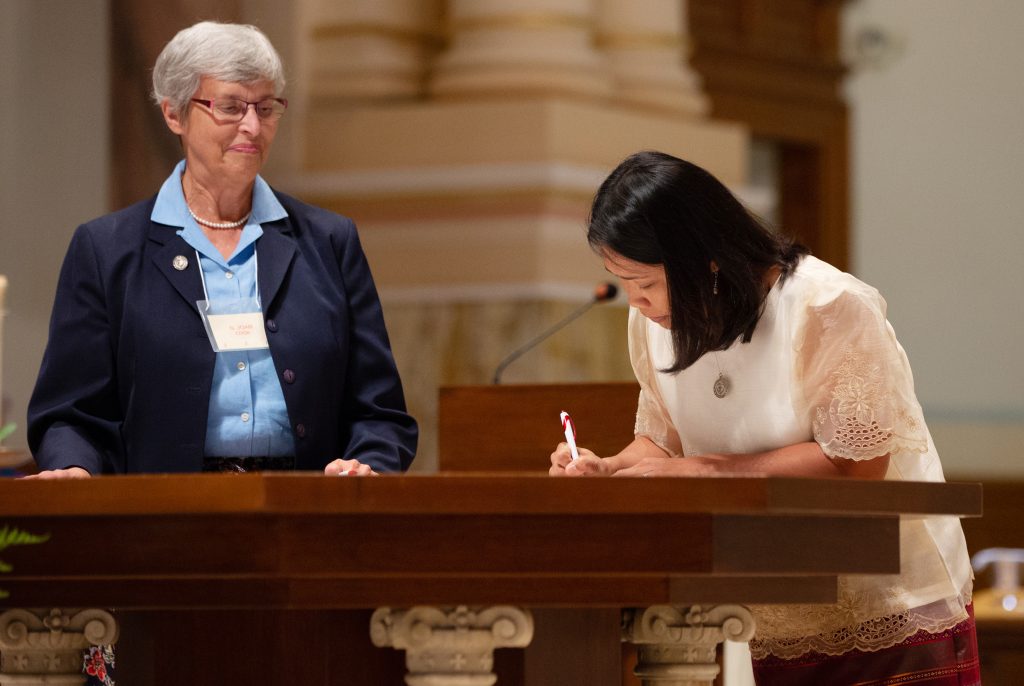 Delhi Township, Ohio – Sister of Charity of Cincinnati Romina Sapinoso pronounced First Vows during a ceremony September 22, 2018, in the Immaculate Conception Chapel at the Mount St. Joseph Motherhouse. During the liturgy Novice Director Sister Donna Steffen presented Sister Romina for First Vows. Romina committed herself for three years to the service of God and God's people as a member of the Sisters of Charity of Cincinnati. She promised "to live in community and vow to God poverty, consecrated celibacy and obedience."
"I make these evangelical vows into the hands of our Sisters of Charity president, Sister Joan Elizabeth Cook. I ask the continuing grace of God and the support of my Sisters, Associates, family and friends that I may keep faith with the commitment I freely and joyfully make today," she concluded.
Sisters of Charity President, Sister Joan Elizabeth Cook, accepted Romina's vows and following the Mass and ceremony in the chapel guests were invited to celebrate with the Community in the Motherhouse Dining Room.
Born in Angeles City, Philippines, Romina is one of three children to Romulo and Teodora Sapinoso. She graduated from Ateneo de Manila University, the Jesuit University in Manila, and worked as an elementary teacher (pre-K to fourth grade) in public and private schools in the United States for over a decade. In 2015 she completed a master's degree in International Multicultural Education at the University of San Francisco, California.
Romina began her year of Affiliation with the Sisters of Charity congregation in September 2015 and ministered as a fourth grade teacher at St. Matthew's Catholic School (El Paso, Texas). She also volunteered at the Santo Niño Project in Anapra, Mexico. In August 2016 Romina became a Canonical Novice. During her Novitiate, Romina taught English as a Second Language to refugees through Catholic Charities in Cincinnati; she also volunteered at the Intercommunity Justice and Peace Center in Cincinnati. At the conclusion of her Apostolic Novitiate this past summer, Romina served as a social emotional learning teacher for the International Refugee Resettlement program's Summer Youth Academy in New York, New York.
---
The Sisters of Charity of Cincinnati, an apostolic Catholic women's religious community, exist to carry out the Gospel of Jesus Christ through prayer and service in the world. Sisters, using their professional talents in the fields of education, health care, social services and environmental justice, live and minister in 33 U.S. dioceses and in Guatemala, Mexico and the West Indies. They also sponsor institutions to address education, health care and social service needs, with particular concern for direct service to the poor. Approximately 360 Sisters are joined in mission by 194 Associates (lay men and women). Visit the Sisters of Charity of Cincinnati Web site at www.srcharitycinti.org.