VACACIONES ÚTILES: Catholic Charities Provides Academic Intervention Over Summer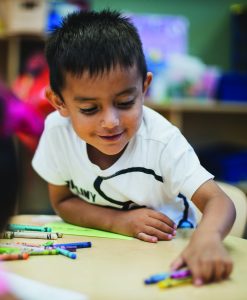 by Regan Meyer
When Ana entered kindergarten after her family came to the U.S. from Guatemala, she consistently tested at a lower academic level than her peers. As a native Spanish speaker, Ana also struggled to communicate with her teachers.
Fast forward to this summer, and Ana is enrolled in Catholic Charities of Southwestern Ohio's (CCSWO) Vacaciones Útiles summer program. According to her instructor, Ana speaks English in complete sentences and excels in all her assignments.
This is Ana's first year at Vacaciones Útiles, and, because of the global pandemic, her experience has been anything but typical. For more than a decade, the eight-week, day-long summer program focused on retention of English language skills with guest speakers, field trips and themed programming. Now, COVID-19 has forced the program online. Su Casa Education Services Supervisor Karri O'Hara said that the focus of the program is much more academically-centered than in previous years.
"It's [much] more of an academic intervention," O'Hara said. "These kids haven't been in school since March. What we do every year is important, but it feels more important now."
Rather than grouping them by ages, Vacaciones Útiles is now split into different classes of students for an hour at a time. Instead of being grouped by age, the classes are divided by reading level. Vacaciones Útiles teacher Marisa Giglio has four class sessions each day. During those sessions, she teaches phonics, reading and math.
While the transition to online learning has been an adjustment, the Su Casa team had some experience from moving their adult English for Speakers of Other Languages (ESOL) classes online in March. They knew from that transition that access to technology would be a bigger barrier to the success of the program than anything else. According to Giglio, only five of her 45 English as a Second Language (ESL) students at Cincinnati Public Schools had access to computers when they moved to remote learning in March.
Thanks to a generous donation, Su Casa was able to provide brand-new Google Chromebooks to all 54 of its Vacaciones Útiles students. To receive a Chromebook, families had to make a $50 deposit and sign a contract. If the student has 100 percent attendance during the summer program, they can keep the laptop through the school year. Su Casa is also providing free wireless hotspots to families who do not have access to wifi.
Families of Vacaciones Útiles students are grateful to the Su Casa team.
"I am very happy that someone like you has helped my children," Ana's mom said of the Su Casa volunteers. "I have noticed that the program has benefited them a lot. I am very grateful to you."
Vacaciones Útiles would not be successful without help from students' parents. O'Hara detailed one interaction with a father who couldn't fill out the forms to register his child. "He couldn't read or write, and it wasn't because of the language barrier. The forms were in Spanish." O'Hara said. "But this man knew that this was important enough to bring his child and sign up for it. That is what makes a difference in a generation and a different outcome for this child."
CCSWO CEO Tony Stieritz said that by equipping vulnerable Latino students with the skills necessary to enhance learning and look forward to a brighter future, Vacaciones Útiles furthers the overall mission of Catholic Charities and the Catholic Church.
"The Catholic faith recognizes that every human person deserves to advance in their physical, intellectual and spiritual development. By
providing education and enrichment opportunities to Latino children in the summer months, Vacaciones Útiles is a shining example of what that looks like," he said.
This article appeared in the September issue of The Catholic Telegraph Magazine. For your complimentary subscription, click here.