Statewide day of adoration set for November 8, 2017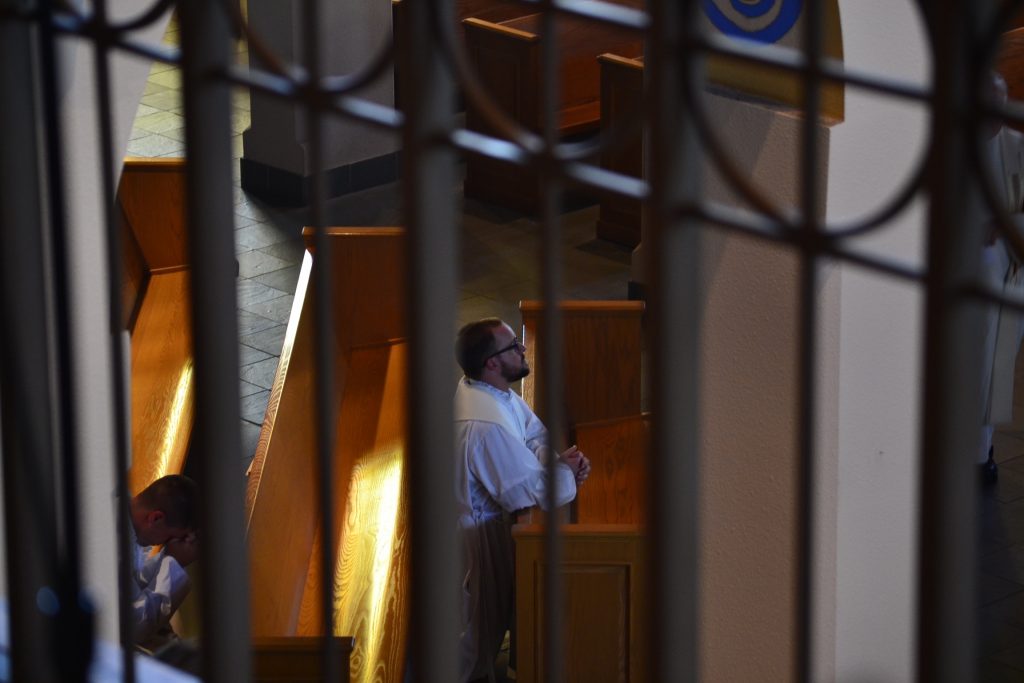 A Statewide Day of Adoration for Vocations to the priesthood and consecrated life is set for Wednesday, November 8th.
More than 30 local sites and parishes from across the state are joining in to pray for vocations all day. This will be a great opportunity to not only pray for vocations to the priesthood and consecrated life, but an opportunity to grow in a sense of community as the local Archdiocesan church. There are multiple ways to celebrate and pray as one Church during National Vocation Awareness Week (Nov. 5-11).
Here is the current list of host parishes and the times they will be praying in front of the Blessed Sacrament for Vocations. Archbishop Dennis Schnurr will be presiding over a holy hour at the Cathedral of St. Peter in Chains from 9:30-10:30AM that day and all are welcome to come join in as we pray across the state for 13 continuous hours starting at 8AM!
Cathedral of St. Peter in Chains 325 W. Eighth St., Cincinnati, 45202, (513) 421-5354; 9:30-10:30AM – Archbishop Dennis Schnurr presiding
Annunciation Church, 3547 Clifton Ave., Cincinnati, 45220, (513) 861-1295;  7:00-8:00PM
Ascension Church, 2025 Woodman Ave., Kettering 45420, (937) 253-5171; 6:00-8:00PM
Children of Mary at Our Lady of the Holy Spirit Center, 5440 Moeller Ave ., Norwood 45212, (513) 351-9800; 6:00-7:00PM
Franciscan Friars St. Anthony Priory, 5000 Colerain Ave, Cincinnati 45223, (513) 541-2146; 4:30-5:30PM
Glenmary Home Missioners Chapel, 4119 Glenmary Trace, Fairfield 45019, (513) 874-8900; 11AM-Noon with Mass to follow at 12:05PM
Guardian Angels Church , 6531 Beechmont Ave. Cincinnati 45230, (513) 231-7440; 8:00-9:00AM
Holy Family Church, 814 Hawthorne Ave., Cincinnati 45205, (513) 921-7527; 3:00-4:00PM
Holy Trinity Church, 140 N. Sixth St., Batavia 45103, (513) 732-2024; 7:00-8:00PM
Incarnation Church, 55 Williamsburg Rd., Centerville 45459, (937) 433-7803; 7:00-8:00PM
Nativity of Our Lord Church, 5935 Pandora Ave., Cincinnati 45213, (513) 531-3164; 7:00-8:00PM
Maria Stein Relic Shrine Chapel, 2291 St. Johns Rd., Maria Stein 45860, (419) 925-4532;  1:00-5:00PM
Missionaries of the Precious Blood St. Charles Center Chapel, 2860 U.S. Route 127, Celina 45822, (419) 925-4516; 8:30am-6:05pm Holy Hour for Vocations at 4:00pm
Monastery of St. Clare Chapel, 1505 Miles Rd., Cincinnati 45231 (513) 825-7177; 4:00-5:00pm with Evening Prayer and Benediction at 5:00PM
Mount Notre Dame de Namur Chapel, 701 E. Columbia Ave., Cincinnati 45215, (513) 679-8189; 7:00-8:00PM
Our Lady of Victory Church, 810 Neeb Rd., Cincinnati, 45233, (513) 922-4460; 7:00-8:00PM
St. Augustine Church, 48 N. Hanover St., Minster 45865, (419) 628-2614; 7:00-8:00PM
St. Boniface St. Clare Chapel, 310 S. Downing St., Piqua 45356 (937) 773-1656; 7:00-8:00PM
St. Cecilia Church, 3105 Madison Rd., Cincinnati 45209, (513) 871-5757;  7:00-8:00PM
St. Clement Church, 4536 Vine St., St. Bernard, 45217, (513) 641-3176; 11:30AM-12:30PM
St. Denis Church, 14 E. Wood St. , Versailles 45380 (937) 526-4945;  6:30-7:30PM
St. Francis de Sales Church, 20A DeSales Ave., Lebanon 45036, (513) 932-2601; 10:00am-6:00pm
St. Francis of Assisi Church, 6245 Wilmington Pike, Centerville 45459, (937) 433-1013;  5:00 -6:00PM
St. Francis Xavier, 607 Sycamore St., Cincinnati 45202, (513) 721-4045;  8:00-9:00PM
St. Ignatius Church, 5222 North Bend Rd., Cincinnati 45247, (513) 574-8354;  6:30-7:30PM
St. James of the Valley Chapel, 411 E. Springfield Pike, Wyoming 45215, (513) 948-1218;  8am-8pm Recitation of the Bible throughout the day as part of a Bible Reading Novena for Vocations
St. Mary Church , 231 Washington Ave., Urbana 43078, (937) 653-1355;  7:00-8:00PM
St. Maximilian Kolbe Church, 5720 Hamilton-Mason Rd., Liberty Township 45011, (513) 426-8961; 7:00-8:00PM
St. Michael Church, 33 Elm St., Fort Loramie 45845 (937) 295-2891; 7:00-8:00PM
St. Remy Church, 108 E. Main St., Russia 45363, (937) 526-3437;  Thursday from 9:00-8:30pm
Sisters of Charity Immaculate Conception Chapel, 5900 Delhi Pike, Mount Saint Joseph 45051, (513) 347-5200; 3:00-4:00PM
Sisters of Notre Dame Notre Dame Convent, 1601 Dixie Highway , Park Hills KY 41011 (859) 291-2040; 4:00-5:00PM
Sisters of the Precious Blood Salem Heights Convent Chapel, 4960 Salem Ave., Dayton 45416; (937) 278-0871 7:00-8:00PM
Outside the Archdiocese of Cincinnati
Holy Family Church, 7359 State Route 109, Ottawa 45875, (419) 876-3481; 7:00-8:00PM
St. Joseph Church, 36 Melmore St., Tiffin, 44883, (419) 447-5848; 7:00-8:00PM
St. Rose of Lima Church, 215 E. Front St., Perrysburg 43551, (419) 874-5631; 7:00-8:00PM – Bishop Daniel Thomas presiding
Map:

For more on vocations week, click here