Stegeman appointed New Media Editor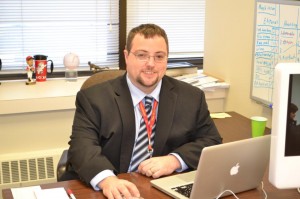 Staff Report 
John Stegeman, most recently a reporter for The Catholic Telegraph, has been named New Media Editor for the www.thecatholictelegraph.com.
Archbishop Dennis M. Schnurr approved the appointment effective July 31, according to CT Editor and General Manager, Steve Trosley.
"Since coming on staff in December of 2012, John has been instrumental in helping us develop more compelling and timely content. He's also been instrumental in building traffic to the website and to the social media sites that we operate," Trosley said.
Stegeman will now lead the continuing development of those digital communications channels and will work with News Editor Eileen Connelly, OSU to cross-promote content between print and digital products, Trosley said.
"We're planning to have exclusive content on our web site and in The Catholic Telegraph," Trosley said, "so that there will be good reason for our archdiocesan audience to visit all of our products. However, we will also ensure that the basic news and feature package that we develop each month will be available to our audience through whichever product they prefer."
"Media platforms change, as seen in the current shift towards digital news consumption," Stegeman said. "What doesn't change is the importance of spreading the message of Christ and His church through whatever platform is available. For more than 180 years The Catholic Telegraph has been doing this in print and I'm excited to facilitate our efforts to do the same online."
Stegeman is a 2008 graduate of Shawnee State University, with a degree in English and minor in Journalism. He and his wife Kelli have a son, Jacob, and are expecting their second child early next year.
Stegeman can be followed online on either Facebook or Twitter.
Posted July 31, 2014