Student, teacher plan to scale mountain to help others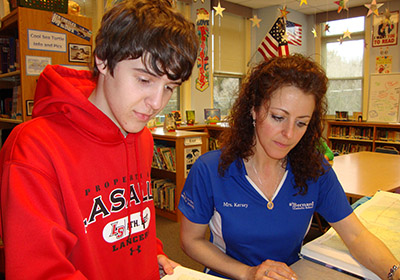 By Patricia McGeever
For The Catholic Telegraph
If you have something to say that you really want people to hear, shout it from the mountaintop. You have to climb up there first, and that's what Kelly Palmer, 16, plans to do.
Not just any 'ole mountaintop, mind you. For him it will be Mt. Kilimanjaro, the largest free-standing mountain in the world located in Tanzania, Africa. The La Salle High School junior is making the climb with family friend Terri Kersey, a fifth grade teacher at St. Bernard School in Taylor's Creek. to bring awareness to a disease from which he suffers, Eosinophilic Esophagitis. His mom learned about the climb for kids with EE and asked Kelly if he'd like to go. "Yeah, that sounds really cool," he said without hesitation.
Eosinophilic Esophagitis is an inflammatory condition of the esophagus caused by large numbers of white blood cells, eosinophils, in the esophagus where they are not normally found. It is rare and there is no cure. It's important to control the symptoms because they can lead to scarring of the gastrointestinal tract and other life threatening conditions. There appears to be a link between the disease and allergies. Many people affected cannot tolerate any food and survive on a medical formula that is administered through a feeding tube.
Kelly's problems are not as severe as that, but they are serious enough that he's had to change his lifestyle and his diet. No more tailgating with the LaSalle High School band before football games where he plays the marimba. He seldom can eat at a restaurant. "We read labels," says Kelly's mother, Teresa. "We typically don't go out to eat that often."  She adds, "We've learned to do a lot with rice flour."
Kelly was diagnosed with EE last summer after suffering severe chest pains every time he ate dairy products. He knew he was allergic to shellfish, dust and mold. But after initial tests that list grew. "We went to an allergist at Children's and they did a test on me for main allergies like eggs, milk, wheat, soy, nuts, and fish and everything came back positive," Kelly recalls. Kelly can eat meat, fruit and vegetables but no tomatoes. He's allergic to those, too. He and his mother met with a dietician to change his diet. Now Kelly takes a medical nutritional supplement and an acid blocker daily. He also uses a steroid inhaler but he swallows the medicine rather than inhales it.
Teresa Palmer says it was "a gift from God" that they went to right allergist who happens to be on a research team studying EE and he knew exactly what was wrong when Kelly described his symptoms. Since his diagnosis and change in habits, Kelly's symptoms have cleared up.
"We did a novena before his last scope to the Blessed Mother that it would come back clean."  And it did. Palmer says many others were praying for her son as well. For now, Kelly is managing his disease and building endurance for his climb. He and climbing partner Kersey need to raise $15,000 before their July 2014 adventure. They are planning various fundraisers between now and then and have a website set up for donations www.lancer4ee.com. The money will go to C.U.R.E.D. a nonprofit with the goal of raising money to fund research that will lead to a cure for EE.
Climbing 19,340 feet of mountain in Africa wasn't on the Kersey's bucket list but when the opportunity presented itself, she enthusiastically jumped on board.
"She sent me the link," Kersey says of an email her co-worker Teresa Palmer sent her, "and I came into school with my jaw on the ground excited to help raise this whole awareness." While in Tanzania, the climbers will all work for a week at an orphanage.
Kelly might be limited in what he can eat, but there are no restrictions on what he can do. Like scale a mountain.