Student who does it all likes praising God best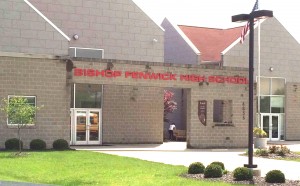 Virtually any high school can point to a star student as an example of its educational value, but Catholic high schools measure by a different standard.
Tayla Manion, who graduated from Bishop Fenwick High School in Franklin on May 27, was certainly a star student. A straight-A learner, Manion played basketball for the Falcons and was a member of two GCL-CoEd championship softball teams. She was a peer mentor, French Club member, served on student council, was a Fenwick Ambassador and served with the Mass musicians, the student group that provided music for school liturgies.
Asked her favorite thing to do as a Fenwick student, the 18-year-old Catholic didn't hesitate.
"I really love singing at Mass," she said. "I think singing affects people in a way that just saying the scriptures doesn't. I think it is really special that I get to share that gift that God gave me with everyone around me and use it to praise him and give him glory and honor."
And that's what makes a Catholic education different, the faith factor.
Manion attended St. Francis De Sales school in Lebanon before attending Fenwick. Still a parishioner at St. Francis De Sales, she helps out each week with the parish school of religion, working with the youth.
"I also love working with the youth," she said. "Since we have to do service hours here at Fenwick, I do mine at my parish. I do the Sunday school program, parish school of religion, and help out with the second grade class. In second grade obviously they make their first communion. Getting them prepared for that and seeing how they grow throughout the year and realize their relationship with God… and seeing them make their first communion is really special."
Manion, one of four children from parents John and Alisa Manion, is also a standout in the classroom.
Academics are important at Fenwick, and Manion bought in fully. She took three advanced placement classes her senior year.
Mike McConnell, who taught Manion U.S. History at Fenwick, called her "unstoppable," and "a force to be reckoned with," in a letter of recommendation for her college applications.
"In my experience with her as her United States history teacher no assignment existed that she could not master," he wrote. "She is a young lady filled with passion for her studies in her quest for greater understanding and knowledge."
That quest will continue next year when Manion goes to Marian University, a Catholic college in Indianapolis, Ind.
Manion said the retreats and education provided at Fenwick all helped her to develop her faith, and it made sense to continue with Catholic school for college.
"In grade school you learn the basics and you don't fully understand everything because you're a child," she said concerning her faith journey. "High school is the point where I really started to discover my faith and ask questions and really get to know God as someone who is my friend and not just an old man in the sky or something.
"It is always challenging to practice your faith, especially in society now with so many distractions like social media, technology and advances in science," Manion added. "Since I've grown up in a Catholic community in Catholic school, Catholic high school, it is a comfort to know I have that faith going out in the real world next year."
Manion will also continue her singing career in college as a member of Marian University's "Sacred Choir."
This story first appeared in the June 2016 print edition of The Catholic Telegraph.