Summit community responds to call to help Northside school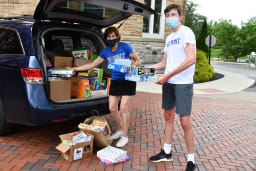 What started out as a reflective prayer during a virtual meeting May 12 among members of The Summit Country Day School community ended up as a schoolwide service project to benefit St. Boniface School in Northside.
After putting out the call to The Summit community, families brought in hundreds of bags of puzzles, books and games — enough to fill two minivans.
Summit Prayer Partners, under the leadership of Summit parent Suzanne McHugh, shifted to virtual meetings during the coronavirus pandemic. At their May 12 meeting, the group was reflecting on St. Julie Billiart's call to "open our hearts as wide as the world." The idea for action was planted by Sr. Rita Sturwold, a member of the Sisters of Notre Dame de Namur (SNDdeN), the order which founded The Summit. Sr. Rita mentioned at the meeting that she wanted to help her friend, Sr. Miriam Kaeser OSF, principal at St. Boniface, with her goal to collect puzzles for students who, because of the coronavirus pandemic, would be in their homes all summer with few resources.
School was out for summer, but parents and students were still dropping off books, which made it convenient to drop off donations of gently used books and puzzles at the same time. Mrs. McHugh said she was moved by The Summit community's rapid response when she and her son, rising Summit sophomore Patrick, arrived to help organize the donations.
"The process of distributing everything was in full motion. The gym was divided into stations — books, games, puzzles, etc. and each station was divided again by age group," Suzanne said.
"The volunteers were given cards with a family name and the age of their children. We then went around and hand-picked items from each station that were age and gender appropriate."
Each family's gifts were put in a large plastic bag with the family name on it.
"As we stood there looking at more than 100 individual bags lined up alphabetically with each family's name, we took time to say a prayer over the bags… a prayer for all the children and their families for a safe and meaningful summer," said the Prayer Partners leader. "I couldn't help but think…God is so good."