Summit Country Day launches 'Aiming Higher' campaign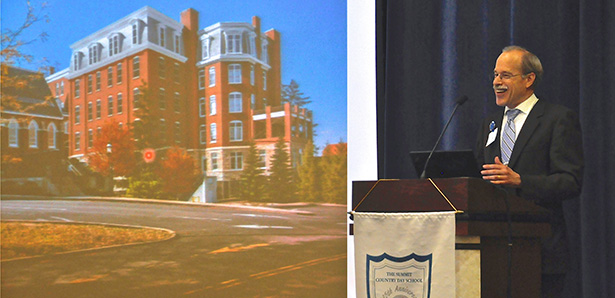 Staff Report
The Summit Country Day School, a Catholic school educating students from age 2 through high school in Hyde Park, announced an $18.6 million capital campaign entitled "Aiming Higher" Tuesday afternoon. Among the initiatives, the campaign would fund a five-story addition to the east wing of the main building.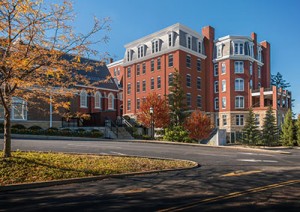 In a press release, Head of School Rich Wilson noted the school's upcoming 125th anniversary.
"As we approach our 125th anniversary in the 2015-16 school year, we are acutely aware that the scope of this campaign, and the impact it will have on our community, represents one of the largest endeavors The Summit has undertaken in our modern era," he said. "'Aim High' is the school's motto. Aiming Higher underscores strategic initiatives that enhance the school's educational offerings to retain the school's position as one of the best independent schools in the country."
The campaign has three parts including $8.6 million in capital improvements, $5.4 million to increase the school's endowment and $4.6 million for the school's Leaders of Character Society to increase the annual fund. In the press release, Summit's Development Director Jim Jackson said 77 percent of the goal had already been reached.
The new wing will expand the the library and a new reading room will be named in honor of long-time benefactor Helen Williams. The art studio will also be moved to a larger space.
Science and STEM labs are expected to be part of the expansion for the Upper School the Middle School respectively.
The school plans to complete construction during summer break, reopening Sept. 1.
By growing the endowment fund, the school hopes to offer more scholarships.
"The Summit now offers more than 30 endowed scholarships and the goal of the Aiming Higher campaign is to have 20 more endowed in the next five years," Jackson said. "An incentive has been provided by the Dennis M. and Lois A. Doyle Family Foundation Seedling Program, which promises a $10,000 contribution to each of 20 scholarships endowed through this campaign."
The final goal for the campaign is to grow the Annual Fund for Excellence to $1 million per year. The school is asking every parent, all alumni and every parent of alumni to give annually to the school. As part of this initiative the school hopes to grow the Leaders of Character Society, a pace-setting group of donors who give at least $1,000 per year.
To read the full press release from The Summit Country Day School, click HERE.
Posted April 21, 2015