The Catholic School Family
A school should never have to experience tragedy. No one argues with that, like not disputing that parents should never have to bury their child. These statements are anchored in powerful emotions. But, of course, life isn't always as it should be.
My son's school recently experienced a tragedy: the unexpected death of a beloved teacher. And, as is often the case, the school's best parts shone brightest in the worst of times.
This January, as we recognize Catholic education in the U.S. with the annual national celebration of Catholic Schools Week, I am highlighting a few "best features" of Catholic schools as revealed during this tragedy.
THE CATHOLIC SCHOOL IS ROOTED IN CHRIST.
I know, it sounds like a cliché, but we must remember its importance. It's sad but true that horrible events happen in this life to us and those we love. We can't escape the storms life brings, only endure through them. And God is the only safe port in the storm.
God is there, all the time. And that means sometimes He is easy to overlook. But that also means that when we need Him most, we know right where to find Him.
THE CATHOLIC SCHOOL IS PART OF A COMMUNITY.
I witnessed powerful acts of love and friendship through small gestures of solidarity from other Catholic Schools in our area. They wore our school colors, students and teachers wore armbands and headbands with the teacher's initials, and opposing Catholic school teams wore our school colors under their normal jerseys.
A Catholic School isn't just a school, but part of something bigger than itself. Even they get caught up in rivalries, like the best of us, but the connection runs deeper and it says: I see you. I love you. I'm with you. I'm here for you. It's family. And everyone is better when they belong to a loving family.
THE CATHOLIC SCHOOL IS FOUNDED IN LOVE.
The outpouring of love from the students, parents, faculty and staff at our school is inspiring, but not surprising. Catholic schools are centered in love from their very beginning, and that foundation impacts everything that happens in the community.
The supreme act of love is introducing people to Christ and helping others come to know and love Him, and it's why Catholic Schools exist. The only reason a Catholic Church has a school is to love. Love is the foundation.
Not every school can say their reason for existing is love, but Catholic schools can. And that's something to celebrate.
Catholic Schools are a great gift, and like any gift, they can be taken for granted. Take time this month to step back and shine a light on all the wonderful blessings God has given us through your local Catholic school.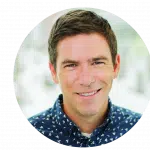 Dominick Albano is the director of digital engagement for The Catholic Telegraph, as well as an author and national speaker. He and his wife have been married for 14 years and have four sons.
This article appeared in the January 2022 edition of The Catholic Telegraph Magazine. For your complimentary subscription, click here.