The Final Word: Working together for the common good by Dr. Eric Spina
I looked out over thousands of faces in the University of Dayton (UD) arena more than four years ago during my presidential installation and urged us to put a stake in the ground. Let us be "The University for the Common Good," I said, humbly aware that UD doesn't have a corner on this concept. It's a cornerstone of Catholic social teaching and has long been an essential element of UD that particularly resonates with me as an educator, parent and lifelong Catholic, and I wanted to elevate it as a way to center our teaching, research and community engagement.
The idea of creating conditions, in the words of Saint Pope John XXIII, where people can "reach their fulfillment more fully and more easily" is the kind of world we should aspire to build. It's an environment that I would like to believe describes our Marianist university, where we are striving to make a UD education accessible to curious and talented students from all zip codes.
By mission, a Catholic university cultivates within students a sense of caring and respect for all people as children of God. It's a place focused on self-discovery, self-awareness – and, ultimately, self-fulfillment. It's a place where students can become the best versions of themselves, growing in knowledge, faith, moral courage and character. Graduates of Catholic universities such as ours will enter a world that desperately needs more leaders adept at building community, finding common ground and valuing the common good. But these are uncommon times, and the common good is being put to the test on our campuses and in our world. With a pandemic and protests dominating our lives, we are called to stand together and care for one another as brothers and sisters.
Our students will return to campus in waves this fall, wearing face masks, practicing social distancing and making a mutual commitment to one another to promote safety and protect each member of our community, particularly the most vulnerable.
They will return to campus against the backdrop of the greatest racial unrest since the 1960s, and perhaps the most promising in terms of possible change. We've all seen the heartbreaking image and heard the pleas from George Floyd, a black man who was killed on a Minneapolis street under the knee of a white police officer as other officers stood by. Sadly and shamefully, this unjust, unjustifiable death of an African American is not an isolated incident, and the patterns over the past few months have unfortunately become the norm in our country. These are teachable moments.
As we await a vaccine, our campus community will accept trade-offs and inconveniences as we put others above self. A large lecture will be delivered in a Zoom room. A film festival will move to a drive-in. A sick roommate may require special care. The typical residential campus experience won't look the same for a while, but that doesn't mean this time of sacrifice can't be a shared adventure, bonding students, faculty and staff together in a spirit of working for the common good.
In every corner of campus, we must also engage in courageous, honest conversations about systemic racism, the great injustice of our times. Drawing on our Catholic, Marianist heritage, we share in the responsibility for finding a new path forward that upholds and protects the worth and dignity of every person.
As a new academic year dawns, I pray that we can help create a world where all flourish.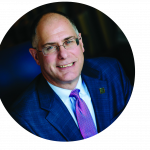 ERIC F. SPINA has served as president of the University of Dayton, a top-tier national Catholic research university, since July 1, 2016. During his tenure, UD's student body has grown in size, become more racially and economically diverse, and increased in academic quality. Under his leadership, the university is charting a path toward becoming known as "The University for the Common Good."
This article originally appeared in the August edition of The Catholic Telegraph Magazine. For your complimentary subscription, click here.