The Word on Fire Bible: Acts, Letters & Revelation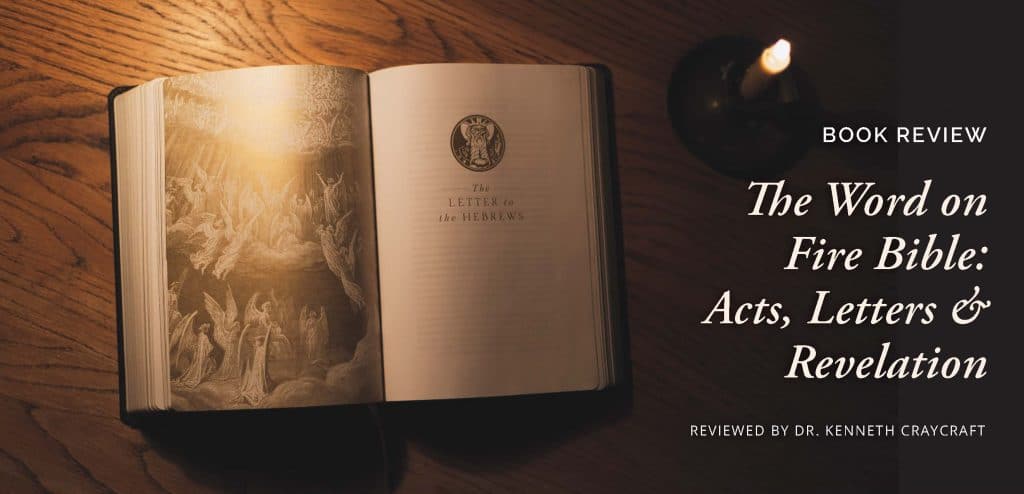 In his 1999 "Letter to Artists," Pope St. John Paul II invoked a famous line from Fyodor Dostoevsky's novel, The Idiot, attributed to the protagonist, Prince Myshkin: "Beauty will save the world." He explained that "beauty is the key to the mystery and call to transcendence. It is an invitation to savor life and to dream of the future." Like truth, he continued, "beauty … brings joy to the human heart." And he approvingly cites St. Augustine's famous equation of beauty with God Himself: "Late have I loved you, Beauty so old and so new."
These lauds to beauty are the animating dynamism of the splendid second volume in The Word on Fire Bible: Acts, Letters and Revelation. Following The Gospels' publication in 2020, Acts, Letters and Revelation continues the theme that beauty not only is an aspect of Christian experience, but, along with truth and goodness, it is one of the three facets of faith to which we subscribe. Truth, beauty and goodness are three ways to describe the Christian faith's glory, each complementing the other to give us the fullness of God's revelation through various aspects of human experience. The Word on Fire Bible unites these three ways of imagining God, in a presentation that defies superlatives. Simply stated, this is a truly magisterial project—boldly conceived and meticulously executed.
Like The Gospels before it, Acts, Letters and Revelation is built around The New Revised Standard Version: Catholic Edition, a different translation from the American versions of the missal and lectionary, so readers will notice variations from the Mass readings. You will not purchase this Bible simply for the Scripture text itself. Rather, The Word on Fire Bible is a tour through faith's nuances using direct commentary on certain passages, as well as essays by scores of prominent theologians, saints, mystics, philosophers, popes and scholars from across the centuries. Being a Word on Fire publication, it is not surprising that Bishop Robert Barron writes much of the commentary.
Insightful and thoughtful as the many essays and articles are, what really sets The Word on Fire Bible apart is its sheer beauty. Sturdily bound in premium leather and lifetime quality paper, the book itself is a pleasure to hold. Dozens of lavish images escort the reader through the Bible's beauty: splendorous drawings and paintings; images of sculptures, churches and other architectural wonders; and many other exquisite artistic images. These are the great masters' works, curated to exhibit the faith's beauty through visual images and expository descriptions.
A painting of flowers in a vase by 17th Century artist Rachel Ruysch provides one example, appearing with the Letter of St. James to illustrate St. James' admonition that the rich's wealth will rot away. An accompanying essay explains how the painting's just-past-their prime flowers express the artist's reminder that all human riches are fleeting, and no illusions can save them. Through the painting's beauty, the truth of St. James' admonition comes alive, pointing us toward the goodness of those riches that never fade away.
And that summarizes the grand achievement of The Word on Fire Bible: Acts, Letters and Revelation. In it we discover the true, the beautiful and the good, mediated by the best of Christian artistic and intellectual history.
The Word on Fire Bible: Acts, Letters and Revelation, Brandon Vogt, General Editor; Leather: $69.95; Hardcover
$39.95; Paperback $29.95; www.wordonfire.org
This article appeared in the March 2022 edition of The Catholic Telegraph Magazine. For your complimentary subscription, click here.