Theology on Tap in Dayton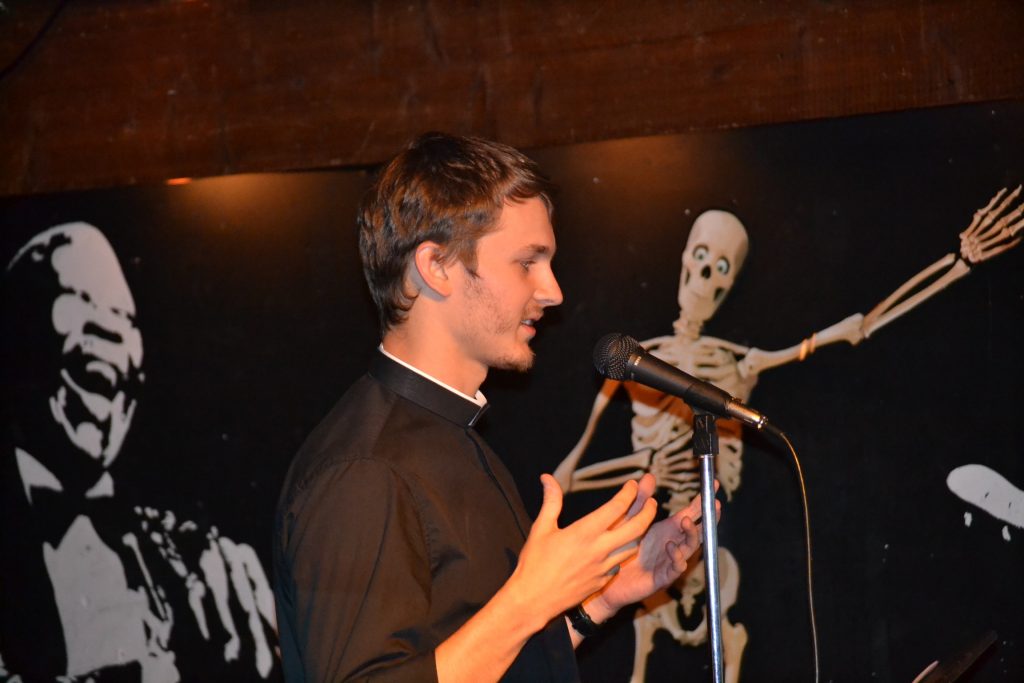 The curtain came down on the Fall Theology on Tap series in Dayton on Thursday, when crowd of about 40 gathered at Oregon Express for a talk by seminarian Chris Komoroski.
Chris is a fifth-year seminarian, currently in pastoral internship at St. Bernard and St. Teresa of the Child Jesus in Springfield. A Cincinnati native, Chris graduated from St. Xavier High School, and then attended and received his undergrad degree at the University of Illinois.
This year's theme for TOT Dayton was "Made for more: A look at Modern Sainthood." Chris's talk was entitled "The power of silence in a noisy world."
When thinking of "noise" there is the external and internal, and Chris recommended thinking of both kinds as pollution. He compared this kind of noise to light pollution, the way that in cities people can only see the brightest of stars, or that air pollution can obscure the sun. When living in Pittsburgh, he said, he noted some churches even had a coating of black, though originally they were brown stone structures.
External noise breaks up the peace in our lives. So much so, he said, that we need noise to get rid of noise.
Internal noise means distractions in our inner selves. At times we head into a church to get away and pray, and yet we're uncomfortable with noise. Chris mentored to the audience that silence is found in God alone: that higher calling. God gives us the nobility to share in the sacrifice of the Mass. A way to enter into this Divine Life is in the Holy Trinity, in the silence of prayer.
Chris reiterated teachings from the Baltimore Catechism that he had relayed to 5th and 6th graders: Who made you? God. Why did God Make you? God made me to know Him, to love Him, and to serve Him in this world, and to be happy with Him for ever in heaven.
Later in the talk, Chris used the seven deadly sins to identify seven deadly sins of today's world: the way the news causes anxiety, social media postings can quickly turn into anger, and internet gluttony that comes from the ability to shop and buy in seconds. These things gets into our hearts and worm their way into the soul, he said, and the solution is prayer. Prayer is lifting the heart and mind to God: Asking "good" things from Him. Reading scriptures is a form of prayer, he reminded the group, and all petitions can be summed up in the "Our Father."
Theology on Tap is a series of talks for young adults held in pubs and other relaxed social settings. Several groups in Cincinnati, West Chester, and Dayton generally have fall and spring TOT series, and some of them are now forming small groups a for evenings of discussion and prayer. For more information, click here.