Throwback Thursday: A glance at past papal pilgrimages to the U.S.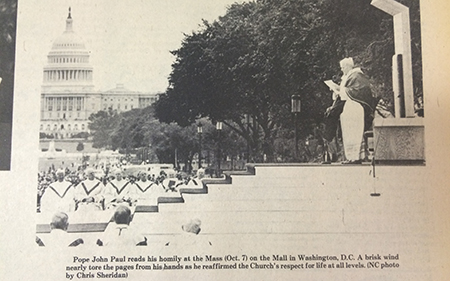 Staff Report
When Pope Francis lands in America next week, he will be just the fourth pontiff to visit the nation.
All eyes of the world will follow Pope Francis from Rome, to Cuba, and finally to the US of A where he has a loaded schedule. With that in mind, here's a look back at the first three popes to visit America.
(Note: The Archdiocese of Cincinnati has worked out a great way for the local faithful to participate in the pope's visit. Learn more here.)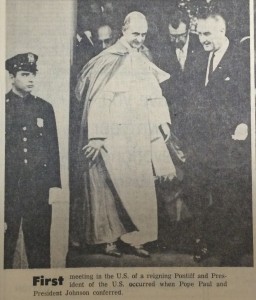 Pope Paul VI was the first Holy Father to bring the papacy to the United States with a whirlwind one-day visit to New York to address the United Nations, making him the first pope to address the world body in that way. His visit took place on Oct. 4, 1965.
Pope Saint John Paul II visited the U.S. seven times during his 26-plus-year papacy. The Throwback Thursday team highlighted one of the sainted pope's visits in last week's installment. Pope John Paul II's first visit to the United States in 1979 came just less than a year following his election. His final visit to the United States came in 1999.
Pope John Paul II became the first pope to meet with a U.S. president at the White House, meeting Jimmy Carter on that visit. Woodrow Wilson's 1919 meeting in Rome with Pope Benedict XV was the first meeting between a pope and U.S. president.
Speaking of Pope Benedicts, Francis' predecessor Pope Emeritus Benedict XVI was the most recent pope to visit the U.S. in April of 2008. Pope Benedict XVI visited Washington and New York, paying a special visit to Ground Zero.
All three popes to visit the United States have received warm welcomes with thousands to millions showing up just to catch a glimpse.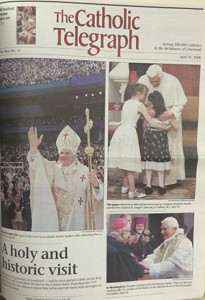 With Pope Francis widespread appeal, his visit next week may well be the biggest apostolic visit yet.
Welcome to The Catholic Telegraph's edition of Throwback Thursday. Throwback Thursday is a weekly online activity wherein users of social media share an old photo or anecdote about times gone by. We use Throwback Thursday to highlight the history of the Archdiocese of Cincinnati, and our publication.
Recent Throwback Thursdays
Did Cincinnati almost get a papal visit?
Sisters of the Poor rich in… Elephants?
Summer riding off into sunset
Archbishop installs neighboring bishop
Cutting edge tech in Catholic school in 1962
Posted Sept. 17, 2015