Throwback Thursday: Death of a Pope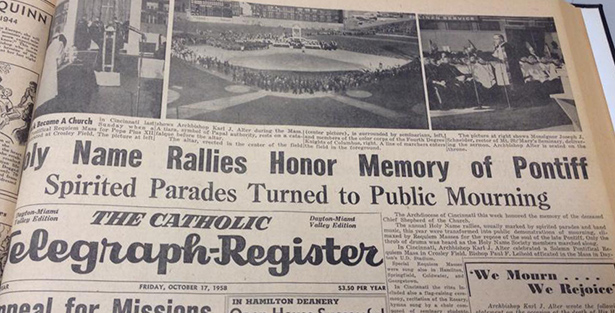 Staff Report
This Throwback Thursday is another somber one as it was 56 years ago today that venerable Pope Pius XII died in Rome, just days after suffering a stroke.
Reports from the Oct. 17, 1958 edition of The Catholic Telegraph-Register shows former Cincinnati Reds stadium Crosley Field being used as a church for a solemn requiem Mass for the Pope. It adds that a similar Mass took place in Dayton's UD Stadium.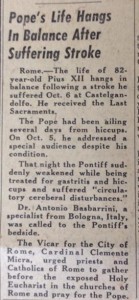 Archbishop Karl J. Alter celebrated the Cincinnati Mass and Bishop Paul F. Leibold celebrated in Dayton. See the full-sized photo from the Crosley Field Mass below.
The celebrations of the Solemn Pontifical Requiem Masses replaced the usually festive Holy Name rallies that took place near those dates, but were co-opted by the death of Pope Pius XII.
The previous week's edition of The Catholic Telegraph, (below, right) was actually published Oct. 10, one day after the pontiff's death, but the paper had already been sent to press. Readers of that issue were informed in a brief about the Holy Father's stroke, and that his life hung in the balance.
Also in the Oct. 17 edition, Archbishop Alter wrote a statement on Pope Pius XII's death. The beginning of this statement is seen bottom right of the above photo.
"The whole word is saddened at the death of Pius XII," he wrote. "No other historical figure of this generation has so vitally influenced the world for good."
Pope Pius XII is sometimes seen as a controversial historical figure, but he was declared "venerable" by Pope Benedict XVI on Dec. 19, 2009. A declaration that a person is "venerable" means the church certifies they lived lived a life of "heroic virtue."
The Catholic Herald, a british newspaper covering Catholic events, reported that former pontiff's cause for canonization has stalled pending a lack of miracles. Its report cited comments from Pope Francis on his return trip from the Holy Land in May.
Welcome to The Catholic Telegraph's edition of Throwback Thursday. Throwback Thursday is a weekly online activity wherein users of social media share an old photo or anecdote about times gone by. We plan to use Throwback Thursday to highlight the history of the Archdiocese of Cincinnati, and our publication.
Previous Throwback Thursdays
Guardian Angels artist was spot on
Catholic prep football in the CT
Archbishop Bernadin makes the Tribune
Sept. 11, 2001
Computers all the rage in 1983
English permitted in some rituals