Throwback Thursday: Every bishop was first ordained a priest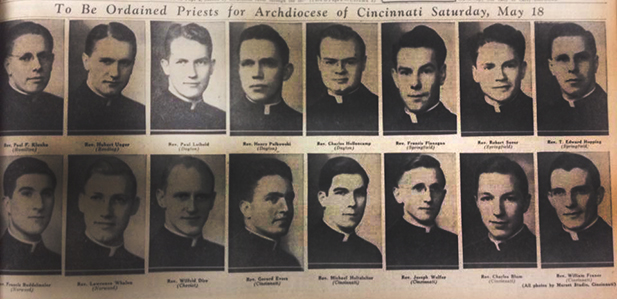 Staff Report
The ordination of a new priest is always cause for celebration. When a class of multiple men are ordained, the celebration is multiplied as the church gains many more shepherds.
At priestly ordination a man become a priest forever, but every once in a while, a priest become a bishop too. Looking back through old issues of The Catholic Telegraph one finds countless groupings of new ordinands and sprinkled among them are men who would be tapped for the episcopacy.
Three men will be ordained to the priesthood for the Archdiocese of Cincinnati on Saturday, May 16. Only God knows the path he has laid out for them, but throughout history the Holy Spirit has worked to select future bishops from the ranks of local priests.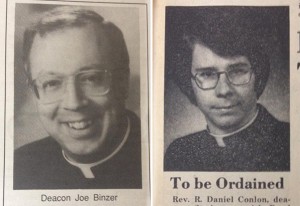 Submitted here are selected clippings with photos of local men who have gone on to become bishops. The list isn't exhaustive, but it does include all of the living bishops who were once ordained as priests in the Archdiocese of Cincinnati.
The top photo shows the large ordination class of 1940 with Paul Liebold highlighted. Then-Deacon Liebold would go on to serve as Archbishop of Cincinnati from 1969 until his death in 1972.
The next photo (above, at right) we have the two most recently ordained bishops with ties to the archdiocese. At left one sees Deacon (now Bishop) Joseph R. Binzer just prior to his priestly ordination in 1994. Bishop Binzer is presently the auxiliary bishop of our archdiocese, a role he has served since 2011.
In the image next to bishop Binzer is R. Daniel Conlon. Seen here in 1977, Bishop Conlon is now the ordinary of the Diocese of Joliet, Illinois. Bishop Conlon served the Archdiocese of Cincinnati as a priest until his appointment as Bishop of Steubenville, Ohio in 2002. He has served in his present capacity in Joliet since 2011.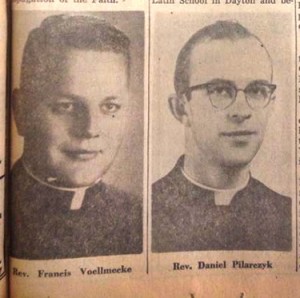 Two men ordained for this archdiocese in 1959 would go on to become bishops.
First up, and seen at right alongside fellow ordinand Francis Voellmecke, is then-Deacon Daniel E. Pilarcyzk. Ordained in Rome on Dec. 20 1959, Pilarcyzk would serve his entire career in the Archdiocese of Cincinnati. He served as a priest until becoming auxiliary bishop of Cincinnati in 1974. He served as archbishop from 1982 until 2009. Presently he is Archbishop Emeritus.
Earlier in 1959, and pictured below at right alongside fellow ordinand Robert Hater, James H. Garland was ordained a priest. Garland served as a priest until his appointment as Auxiliary Bishop of Cincinnati in 1984. Bishop Garland served as ordinary of the Diocese of Marquette, Mich. until his retirement in 2005. He is presently Bishop Emeritus in the Diocese of Marquette.
The native of the Archdiocese of Cincinnati to serve as a bishop locally was Archbishop Henry K. Moeller. He was appointed auxiliary bishop in 1903 and became archbishop upon the death of Archbishop William H. Elder in 1904.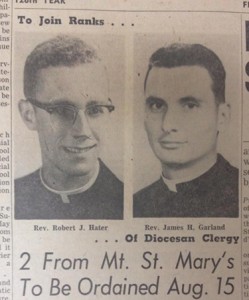 Archbishop of Cincinnati Dennis M. Schnurr was ordained to the priesthood on July 20, 1974 in the Diocese of Sioux City, Iowa.
Welcome to The Catholic Telegraph's edition of Throwback Thursday. Throwback Thursday is a weekly online activity wherein users of social media share an old photo or anecdote about times gone by.We use Throwback Thursday to highlight the history of the Archdiocese of Cincinnati, and our publication.
Recent Throwback Thursdays
Archbishop goes to Rome for Holy Year
Cathedral under construction
Birth of a papacy
A Tower of Faith
The Death of John Paul II
Archbishop Elder's Sick Call Box
Posted May 14, 2015