Throwback Thursday: Feast of the Ascension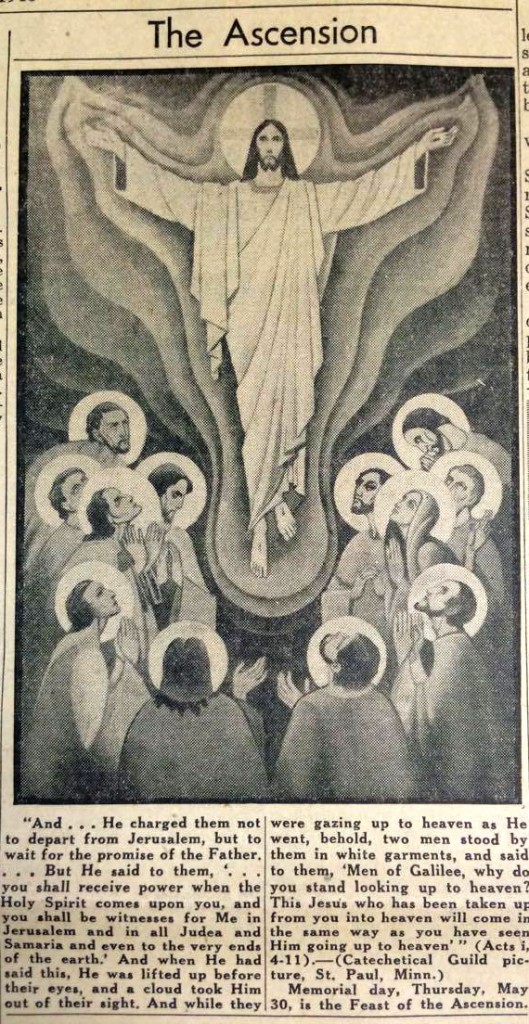 "…He was lifted up before their eyes, and a cloud took Him out of their sight." – From Acts 1:9
The Feast of the Ascension of the Lord is among the oldest feast days in the Church, making it the focus of this week's Throwback Thursday story.
The image with this post — credited only as "Catechetical Guild picture, St. Paul, Minn." — is from the May 24, 1946 edition of The Catholic Telegraph-Register. Pictured are Christ and the 11 apostles, and Mary, Jesus' mother, who Acts of the Apostles chapter one puts at the scene. The text below is an abbreviated version of Acts of the Apostles chapter 1 and a note that the Feast of the Ascension in 1946 would fall on Thursday, May 30, which was then Memorial Day.
According to the Catholic Encyclopedia, St. Augustine's writing in the fifth century refers to the Feast of the Ascension as being of apostolic origin. From the first age of Christians until today, the moment of the Lord's return into heaven following the resurrection has been celebrated in unique ways.
The accession narrative can be found scripturally in Mark 16:19, Luke 24:51 and Acts of the Apostles 1:1-11.
The Catholic Encyclopedia notes that in the past some churches would host triumphant processions to commemorate the day, along with Mass of course. In other churches, a statue or image of Christ would be made to raise from behind the altar, up through and past the roof.
In more than a dozen nations, including France and Germany, the feast is also a national holiday.
Because the feast was traditionally celebrated on the 40th day after Easter, which is always a Thursday, it has come to be known colloquially as Ascension Thursday.
In recent years, a commonly asked question about the feast is, "Is the Feast of the Ascension of the Lord a Holy Day of Obligation?"
The short answer is yes. The longer answer, provided by About.com's Catholicism page, is more complex.
"The Feast of the Ascension remains a Holy Day of Obligation throughout the United States. The day on which it is celebrated, however, varies. The 40th day after Easter Sunday is always a Thursday, and the feast has traditionally been celebrated on that Thursday.
However, because attendance at Ascension Thursday Masses had been falling for years, the bishops of the United States, in accordance with canon law, petitioned the Vatican to allow the celebration to be transferred to the following Sunday. The Vatican agreed.
Today, only the ecclesiastical provinces of Boston, Hartford, New York, Newark, Philadelphia, and Omaha (the state of Nebraska) continue to celebrate the Ascension of Our Lord on Thursday."
As the article notes, the feast is transferred to Sunday, and all Sundays are Holy Days of Obligation for Catholics.
Welcome to The Catholic Telegraph's edition of Throwback Thursday. Throwback Thursday is a weekly online feature wherein users of social media share an old photo or anecdote about times gone by. We use Throwback Thursday to highlight the history of the Archdiocese of Cincinnati, and our publication.
Recent Throwback Thursdays
Students prep for first communion
A Christian marriage pledge
Festivals a mark of faith and fun
Holy Week 2016 in Review
Consider getting the print edition