Throwback Thursday: Once-new landmark remains a tower of faith

Staff Report
Residents of Cincinnati's West End neighborhood need only look up to see the "tower of faith" that is St. Joseph Catholic Church — the focus of today's Throwback Thursday.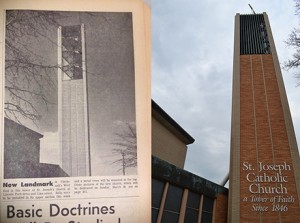 Archbishop of Cincinnati Karl Alter dedicated the present St. Joseph Catholic Church building on March 28, 1965 — 50 years (and 12 days) ago. Though the parish had been established since 1846, the new church included a iconic tower that continues to serve as a landmark to the Catholic presence in the West End of Cincinnati.
The tower, which originally did not include the present mounted cross or writing on the facade, was hailed as a "new landmark" by the March 26, 1965 edition of The Catholic Telegraph.
Included with this posts are side-by-side recreations of some of the photos from the 1965 edition.
The artwork above the church entrance was described as, "a ceramic representation, in color, of scenes from the life of St. Joseph." The sculptor of the piece was Cincinnatian Walter Driesbach.
The small display window left of the entrance contained an open Bible in 1965, but presently includes a portrait of Jesus and a crown of thorns.
St. Joseph Catholic Church is presently served by pastor Father Reynaldo S. Taylor. It also operates St. Joseph School, one of the Archdiocese of Cincinnati's Catholic Inner-City School Education Fund schools.
Welcome to The Catholic Telegraph's edition of Throwback Thursday. Throwback Thursday is a weekly online activity wherein users of social media share an old photo or anecdote about times gone by. We use Throwback Thursday to highlight the history of the Archdiocese of Cincinnati, and our publication.
Recent Throwback Thursdays
The Death of John Paul II
Archbishop Elder's Sick Call Box
When Dayton won it all — sort of
Bishop on a bulldozer
Remembering Sister Dorothy Stang

Posted April 9, 2015