Throwback Thursday: Remember the Ice Bucket Challenge?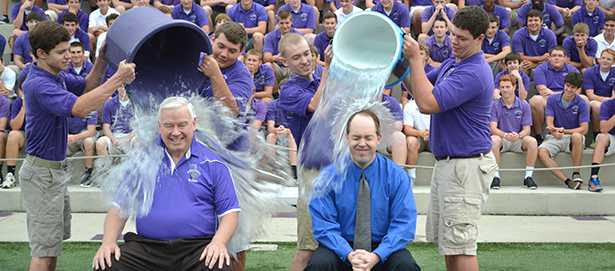 Staff Report
Just less than a year ago Facebook and Twitter feeds were completely full of people dumping buckets of ice water on their heads and challenging others to do the same to raise money and awareness for amyotrophic lateral sclerosis (ALS), a neurodegenerative condition affecting roughly 30,000 Americans. News media covered the Ice Bucket Challenge phenomenon intensely, making it one of the most talked about events of 2014.
Today's Throwback Thursday remembers that episode in our history with a reminder, people still suffer from ALS and more money is needed to help the fight for a cure. The photo above shows Superintendent of Catholic Schools Jim Rigg and Elder High School Principal Tom Otten taking the challenge in 2014.
Last year's challenge raised millions of dollars for the ALS Association, but many Catholics and others opposed to embryonic stem cell research, which ALS Association (ALSA) supports, found themselves unable to support that association. Instead they donated to the John Paul II Medical Research Institute (JPIIMRI) in Iowa — a medical research group that seeks cures to neurodegenerative conditions including ALS but uses only adult stem cells and strives to remain in accord with church teaching.
"(The Church) is trying to uphold Catholic values and teachings about the sanctity of human life but then you have this problem with patients who are having life threatening diseases where they have no other option but to choose between an embryonic stem cell or nothing," said Dr. Alan Moy, founder and scientific director at JPIIMRI. "Our approach is rather than have them face that dilemma, let's come up with a more innovative stem cell line that can make the embryonic stem cell obsolete."
After Catholic and other organizations with moral objections to the ALSA found JPIIMRI, the institute raised more than $450,000. By contrast the more visible ALSA raised $15 million. Both organizations are urging people to take the challenge again this year, and every August, until a cure is found.
Jay Kanath, CEO of the institute, said JPIIMRI received donations from every state and 38 nations. Ohio was among the top five in donations.
"We don't want this to be a one time event where people think, 'I gave to this last year so everyone should have enough money to proceed with what we need to happen,'" Kanath said. "One of the things highlighted by the national ALSA aspect is even though they raised $15 million last year, science is an expensive field which requires a lot of financial ongoing support from the public."
The science is ever evolving, but several treatments with adult stem cells are in the clinical trial stage. Though too early to tell results, Moy said similarities between ALS, multiple sclerosis, and other spinal injuries may mean that curing ALS leads to treatments or cures for the others as well.
In a time where viral fads come and go like the wind, the JPIIMRI said donations continued from last August until about the new year. They're hoping to match or exceed what was earned last year.
To learn more about 2014's ice bucket challenge click HERE.
To learn more about the John Paul II Medical Research Institute, click HERE.
Welcome to The Catholic Telegraph's edition of Throwback Thursday. Throwback Thursday is a weekly online activity wherein users of social media share an old photo or anecdote about times gone by. We use Throwback Thursday to highlight the history of the Archdiocese of Cincinnati, and our publication.
Recent Throwback Thursdays
Remember your religious obligation
Cincinnati an archdiocese for 165 years
Updating an Iconic Chapel
True freedom depends on God
Fortnight for Freedom
Orphan's best friend
Posted August 6, 2015