Throwback Thursday: Summer break rides off into sunset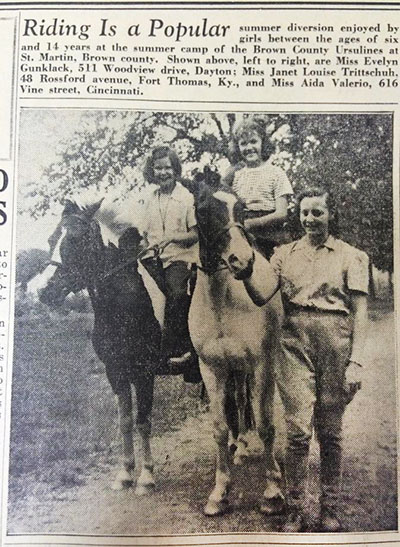 Staff Report
By this time next week, all 200+ Catholic schools of the Archdiocese of Cincinnati will be back in session.
While most are back now, a few start early next week. For those few still enjoying summer break, late August is a chance to squeeze in just a few more of one's favorite summer activities.
Today's Throwback Thursday showcases a fun summer activity from 1940 — horseback riding at the Ursulines of Brown County Summer Camp at St. Martin. Girls from ages 6-14 could learn horseback riding at the camp, which operated from 1928 until 1982.
The accompanying photo, published just more than 75 years ago, shows two girls mounted and another guiding the horses. The girls pictured from left to right are Evelyn Gunklack, Janet Louise Trittschuh and Aida Valerio.
The image appeared in the Aug. 23, 1940 edition of The Catholic Telegraph.
Welcome to The Catholic Telegraph's edition of Throwback Thursday. Throwback Thursday is a weekly online activity wherein users of social media share an old photo or anecdote about times gone by. We use Throwback Thursday to highlight the history of the Archdiocese of Cincinnati, and our publication.
Recent Throwback Thursdays
Archbishop installs neighboring bishop
Cutting edge tech in Catholic school in 1962
Remembering the Ice Bucket Challenge
Remember your religious obligation
Cincinnati an archdiocese for 165 years
Posted August 27, 2015