Tim Kaine, a Catholic VP? Bishops voice their concerns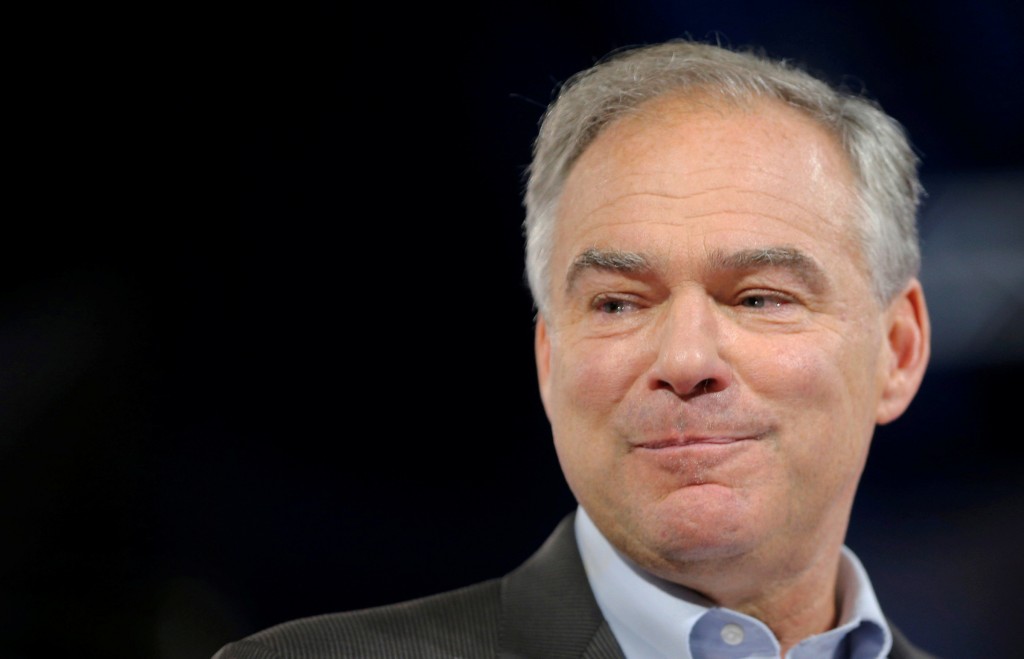 After Senator Tim Kaine, a Catholic from Virginia, was named Hillary Clinton's running mate last week, several bishops spoke out on the sanctity of life – implicitly criticizing the nominee's pro-choice stance.
Bishop Francis X. DiLorenzo of Kaine's home diocese of Richmond, Virginia released a statement regarding Catholics in public office July 22.
"The Catholic Church makes its position very clear as it pertains to the protection of human life, social justice initiatives, and the importance of family life," he said.
"From the very beginning, Catholic teaching informs us that every human life is sacred from conception until natural death. The right to life is a fundamental, human right for the unborn and any law denying the unborn the right to life is unequivocally unjust."
Bishop Thomas Tobin of Providence, Rhode Island also commented on the subject, mentioning Kaine by name and lamenting that "apparently, and unfortunately, his faith isn't central to his public, political life."
Kaine has been described as a devout Catholic and has attended St. Elizabeth Catholic Church in Richmond for decades.
His record on the issue of abortion is complicated. While he says that he personally opposes abortion, he supports it politically.
As Governor of Virginia, he often spoke of adoption as the best solution to unwanted pregnancy, and approved the sale of "Choose Life" license plates, whose proceeds help fund pro-life clinics. He supported abstinence-only sex education for a time (although he later cut funding saying the program was not working), and backed Virginia's informed consent law, which requires women seeking an abortion to receive an ultrasound of the developing fetus prior to the procedure.
However, since entering the Senate in 2010, he has maintained a consistently pro-abortion voting record, earning him a 100 percent rating from NARAL Pro-Choice America, whose president, Ilyse Hogue, voiced her support for the candidate after he was picked.
"While Senator Kaine has been open about his personal reservations about abortion, he's maintained a 100% pro-choice voting record in the U.S. Senate," she said in a statement. "He voted against dangerous abortion bans, he has fought against efforts to defund Planned Parenthood, and he voted to strengthen clinic security by establishing a federal fund for it."
In an interview with MSNBC, Planned Parenthood President Cecile Richards called Kaine "not only a solid vote but really an ally."
Recently, Kaine has voiced support for the Supreme Court's striking down of Texas laws that would have required abortion clinics to meet the standards of surgical centers, among other standards. In a statement, he called the ruling a "major win…(in) the fight to expand reproductive freedom for all."
He has also supported the Affordable Care Act on numerous occasions, and spoke out against the Supreme Court's Hobby Lobby decision after it found that the Act violated the religious freedom rights of Hobby Lobby and similar employers who were forced to comply with the federal contraception mandate against their religious beliefs.
Church teaching does not dictate which party or candidate a Catholic should choose. It does, however, offer guidelines for the faithful to use in making their decision.
In their document, "Forming Consciences for Faithful Citizenship," the U.S. bishops outline an understanding of political responsibility based upon developing a "well-formed conscience."
Catholic teaching holds that the "right to life" is paramount. St. John Paul II described it as "the most basic and fundamental right and the condition for all other personal rights." The bishops' document stresses that the direct and intentional destruction of innocent human life "is not just one issue among many. It must always be opposed."
In the document, the bishops also stated their opposition to "contraception and abortion mandates in public programs and health plans, which endanger rights of conscience and can interfere with parents' right to guide the moral formation of their children."
In his statement, Bishop DiLorenzo added that elected officials in Virginia are made aware of the Church's stance on various issues because he and Bishop Loverde of the Diocese of Arlington advocate for Catholic policies before the Virginia General Assembly, U.S. Congress, and the Virginia Catholic Conference, a public policy advocacy organization.
"We continue to maintain an open communication with public officials who make on-going decisions impacting critical, moral and social issues. This is a responsibility I take seriously, along with my brother bishops, to reach out to public leaders to explain Catholic principles and encourage them to protect human life and dignity in all decisions they make," Bishop DiLorenzo said in the statement.
"We always pray for our Catholic leaders that they make the right choice, act in the best judgment and in good conscience, knowing the values and teachings of the Catholic Church."
Bishop Tobin of Providence also weighed in on Saturday on Tim Kaine's stance on various issues in a Facebook post titled "VP Pick, Tim Kaine, a Catholic?"
"Democratic VP choice, Tim Kaine, has been widely identified as a Roman Catholic. It is also reported that he publicly supports 'freedom of choice' for abortion, same-sex marriage, gay adoptions, and the ordination of women as priests," Bishop Tobin wrote.
"All of these positions are clearly contrary to well-established Catholic teachings; all of them have been opposed by Pope Francis as well. Senator Kaine has said, 'My faith is central to everything I do.' But apparently, and unfortunately, his faith isn't central to his public, political life."
In past election years, several bishops have stressed that Catholic politicians who support abortion should not receive Communion.
While Bishop DiLorenzo's statement did not address Kaine specifically, he said "(i)t is the duty of all Catholics, no matter their profession, to decide through an upright and informed conscience as to their worthiness to receive the Sacrament of the Holy Eucharist."