U.S. couple at synod calls for 'robust, creative' family programs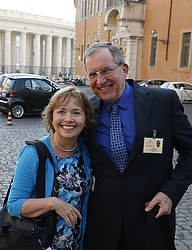 By Cindy Wooden Catholic News Service
VATICAN CITY — Existing diocesan programs and Catholic organizations aimed at helping Catholic families fulfill their vocation clearly are not strong enough to meet modern needs, a Wisconsin couple told the Synod of Bishops.
"We must develop more robust and creative methods to share the fundamental truth that marriage is a divine gift from God, rather than merely a man-made institution," Alice Heinzen told the synod Oct. 7, reading a speech she and her husband, Jeff, wrote.
The Heinzens, from the Diocese of La Crosse, were named synod auditors by Pope Francis and were chosen to introduce the work of the synod's afternoon discussion on pastoral programs designed to meet the challenges facing families. Alice is director of the diocesan Office for Marriage and Family Life; Jeff is president of McDonell Catholic Schools in Chippewa Falls.
The Catholic Church, its parishes and organization need to review "the methods by which we teach our children about the nature of human sexuality and the vocation of marriage," Heinzen said. In addition, when Catholics talk about vocations and God's call to each of the baptized to serve the church and humanity, they cannot speak only of priesthood and religious life. "Marriage should be included in all programs designed to explore vocations."
Presenting marriage as a vocation and the immediate preparation of couples for marriage are not enough, she said. The church also needs to review "how we provide for the aftercare of marriage that can help couples deepen their relationship."
The Heinzens said they recognize that their parents' example and their family life growing up were major factors in their continuing to be active today; Alice said she remembers seeing her father leave early to go to Mass before work, praying the rosary together during the month of May and attending Sunday Mass as a family.
"To all this we can add our mothers who reminded us to always love our siblings, to use our best manners with others, and to save our pennies to help those less fortunate," she said. "Our homes were schools of love and virtue and our parents were the primary educators."
But many young people today have no similar experiences and, instead, suffer the pain of seeing their parents divorce or are raised by a single parent who was never married.
Sociological research and the international input used for the synod's working document indicate that "children raised without the blessing of married parents, who have created a home animated by love and faith, will likely struggle to trust in God and their neighbors," she said. "How can they create lifelong marriages?"
Through their ministry, she said, "we know countless divorced adults who have joined other faith communities because they do not feel welcomed in the Catholic Church. And, our hearts ache for single parents who struggle to care for their children. Like you, we strive to find simpler, more effective ways to better share the blessings of God's plan for marriage and family."
The church is not confused or in a state of crisis about its teaching on marriage and family life, she said. But there is "a crisis of methodology. How do we as a church effectively share what we know to be true in practical, simple and convincing ways, so that all men and women are challenged and supported to live lifelong marriages and build homes that reflect the domestic church?"
Posted Oct. 8, 2014