Ursuline's annual Canned Food Drive Far Surpasses Past Years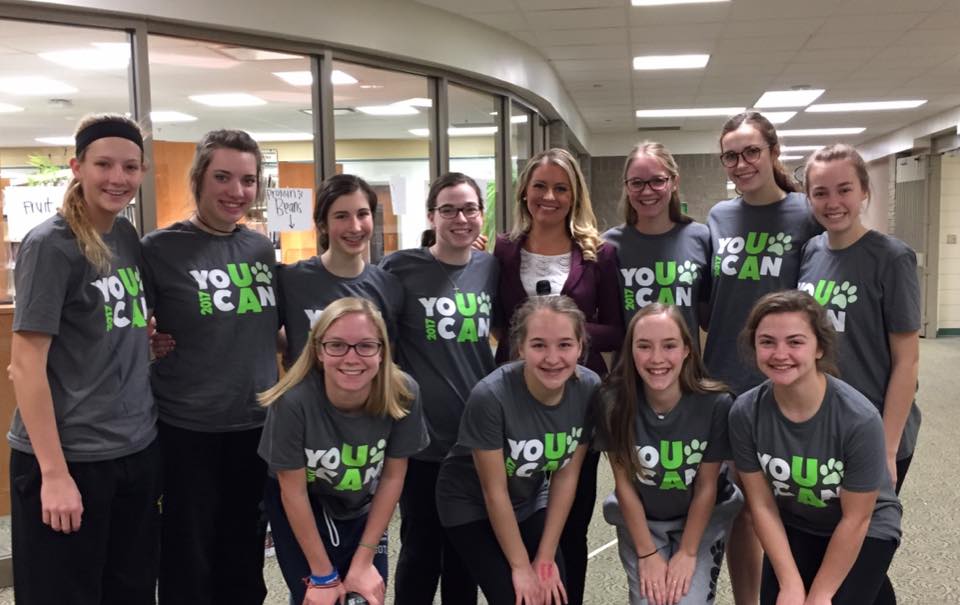 Collecting over 29,000 Pounds for 10 Community Partners
CINCINNATI, OH – Ursuline Academy proudly announced the results of the 2017 annual Canned Food Drive: over the course of three days, Ursuline students brought in 29,450 pounds of canned goods, personal care, and household items for 10 agencies in the community. This is equivalent to the weight of 70 lions, Ursuline's mascot, and is an average of 44 pounds per Ursuline student. Additionally, the drive raised over $4,800 which will be donated to the Greater Cincinnati Coalition for the Homeless.
The Canned Food Drive is a significant part of Ursuline history, having been an annual event for over 30 years. Classes compete to bring in the most pounds of canned goods, non-perishable items, and personal hygiene items. These items are then donated based on specific need to ten local agencies: Churches Active in Northside, The Caring Place, Hope Emergency Program in Brown County, Loveland LIFE Pantry, Mason Food Pantry, Mercy Neighborhood Ministries, Mt. Healthy Alliance, Northeast Emergency Distribution Services (NEEDS), St. Vincent de Paul, and Valley Interfaith Food & Clothing Shelter.
"This year we were happy to be able to expand the number of organizations we worked with from four to ten," Ursuline Canned Food Drive co-leader Abby Klare '17 of Symmes Township, said. "By working closely with the pantries we got an understanding of what they need most and we were able to ask students to focus on those items. Many of the pantries told us that there is a great need for personal care and household items because those are items that our neighbors cannot purchase with SNAP benefits. We were really thrilled to be able to provide many of those items to our partner agencies."
Ursuline students collect items by going door to door in their neighborhoods, reaching out to their friends and families, and purchasing items with their own or collected money. A special congratulations to the students who organized and led the three-day collection: Canned Food Drive co-leaders Caroline Hogan '18 of Montgomery and Abby Klare '17 of Symmes Township; Senior Leaders Maggie Edmondson '17 of Symmes Township and Natalie Williams '17 of Loveland; Junior Leaders Gracie Allbright '18 of Withamsville and Carolyn Haney '18 of Symmes Township; Sophomore Leaders Charlie Eibin '19 of Loveland and Sarah Smith '19 of Montgomery; and Freshman Leaders Annie Farkas '20 of West Chester and Claire Hall '20 of Lebanon.
Ursuline Academy is an independent Catholic college-preparatory school for young women in grades 9 –12. Founded in 1896 in Cincinnati by the Ursulines of Brown County, St. Martin, Ohio, the school has been located at 5535 Pfeiffer Road, Blue Ash, Ohio since 1970.
---
Scripture Conncection: So they collected them, and filled twelve wicker baskets* with fragments from the five barley loaves that had been more than they could eat. John 6:13. For the full passage, click here.