Vatican-Palestine accord supports 'two-state' solution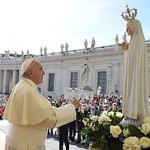 By Cindy Wooden Catholic News Service
VATICAN CITY (CNS) — Vatican and Palestinian representatives have finalized the text of a formal agreement recognizing freedom of religion in the "State of Palestine" and outlining the rights and obligations of the Catholic Church, its agencies and its personnel in the territory.
Without fanfare, the Vatican has been referring to the "State of Palestine" at least since January 2013. The "Annuario Pontificio," the Vatican's official yearbook, lists a diplomatic relationship with the "State of Palestine."
The Vatican, which praised the United Nations' recognition of Palestinian sovereignty in 2012, said May 13 that the bilateral commission working on the agreement had finalized the text.
"The agreement will be submitted to the respective authorities for approval" and a formal signing ceremony should be held soon, the statement said.
Palestinian President Mahmoud Abbas was scheduled to meet Pope Francis May 16, the day before attending a canonization Mass at the Vatican for two new Palestinian saints.
Msgr. Antoine Camilleri, the Vatican undersecretary for relations with states and head of the Vatican delegation at the negotiations, said the Vatican wanted the agreement to "promote the life and activity of the Catholic Church and its recognition on a juridical level."
The text of the agreement will not be released until it receives top-level approval. However, Msgr. Camilleri described the general contents to L'Osservatore Romano, the Vatican newspaper.
The agreement, he said, expresses hope for an end to Palestinian-Israeli tensions and supports the existence of two separate, independent nations living side by side in security and peace.
The chapter on "freedom of religion and conscience," he said, is "very elaborate and detailed."
Other chapters deal with "various aspects of the life and activity of the church in the Palestinian territories: its freedom of action, its personnel and jurisdiction, its personal status, houses of worship, social and charitable activity (and) means of social communication. Finally, a chapter is dedicated to financial and property questions."
Asked if the agreement could be a model for agreements with other Muslim-majority countries, Msgr. Camilleri said every bilateral treaty deals with the specific situation of the countries involved.
"In this case, because it deals with the presence of the church in the land where Christianity was born, the agreement has a unique value and significance," he said.
At the same time, though, he said the agreement's recognition of the church and of religious freedom "could be followed by other countries, including those with a Muslim majority, and demonstrate that such recognition is not incompatible with the fact that the majority of the country's population belongs to another religion."
The monsignor said he hoped the agreement would help Palestinians reach the point of seeing "established and recognized an independent, sovereign and democratic State of Palestine that lives in peace and security with Israel and its neighbors."
The Vatican, he said, also wants to encourage "the international community, especially the parties most directly interested, in undertaking more decisive action to contribute to reaching a lasting peace and the hoped-for solution of two states."
Posted May 13, 2015