Some Family Activities for May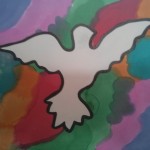 Staff Report
Saturday May 16th The Archdiocese of Cincinnati newly ordained Priest. Have a Holy Hour at home to pray for our newly ordained Priest: Rev. Mr. Adrian Hilton, Rev. Mr. Ethan Moore, and Rev. Mr. Eric Wood. During the Holy Hour pray for these men, as well as our seminarians, and those contemplating religious life. Additionally you may want a send a note from your family to our newest Priest, and mail that to the Athenaeum of Ohio, 6616 Beechmont Ave., Cincinnati OH 45230 celebrating their ordination.
Sunday May 17th Solemnity of the Ascension of the Lord. In Acts 1 St. Luke writes "While they were looking intently at the sky as he was going, suddenly two men dressed in white garments stood beside them. They said, "Men of Galilee, why are you standing there looking at the sky? This Jesus who has been taken up from you into heaven will return in the same way as you have seen him going into heaven." Today is a day to gather the family and discuss how your family will build the Kingdom of God through our service.  Perhaps help out at the church or volunteer for the summer festival; volunteer at a local soup kitchen; or simply help out elderly neighbors with task such as yard work, etc. Make a poster by writing your family's commitment to summertime service.
Sunday May 24th Pentecost: This year Pentecost falls on Sunday of Memorial Day weekend. Make this is "Red Day" by wearing Red. As a family, recall the power of the Holy Spirit through symbols at dinner or if you're having a picnic. As this is the last day of Easter, prepare Red Easter Eggs as a symbol of life giving blood, as the Holy Spirit is life giving to us. Desserts could include a type of strawberry dessert continuing the red theme. This is also the last day to recite the Regina Caeli in the morning, noon, and evening for the angelus: V. Queen of Heaven, rejoice, alleluia., R. For He whom you did merit to bear, alleluia., V. Has risen, as he said, alleluia., R. Pray for us to God, alleluia., V. Rejoice and be glad, O Virgin Mary, alleluia., R. For the Lord has truly risen, alleluia; Let us pray. O God, who gave joy to the world through the resurrection of Thy Son, our Lord Jesus Christ, grant we beseech Thee, that through the intercession of the Virgin Mary, His Mother, we may obtain the joys of everlasting life. Through the same Christ our Lord. Amen.