Vigil Praise: New worship event an opportunity for young adults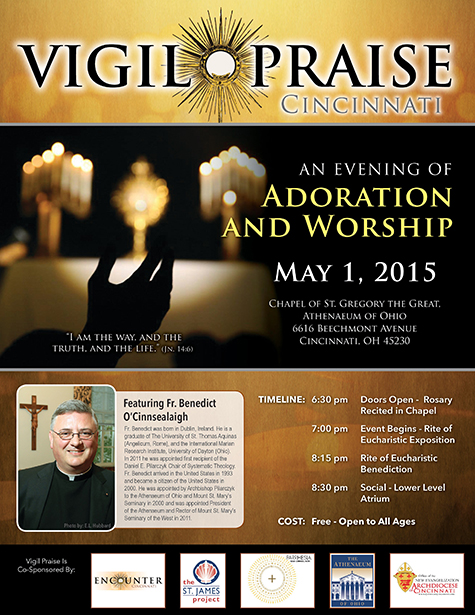 By John Stegeman
The Catholic Telegraph 
Finding events for teens or retirees hasn't been a challenge in many parts of the church. One underserved population, however, has been young adults. Five local ministries have combined forces to fix that problem beginning May 1 with the first Vigil Praise event, an evening of Adoration and worship in the St. Gregory the Great Chapel at the Athenaeum of Ohio.
Vigil Praise is based on an eponymous event started in the Archdiocese of Denver in 1999.
"This event, at the heart of it, is for all the young adults in the diocese…," said Luke Carey, Assistant Director for the Office of New Evangelization. "That's where it's born the most fruit out in the Archdiocese of Denver."
The sponsoring ministries are The Athenaeum, the St. James Project, Encounter Cincinnati, Parrhesia and the Office of the New Evangelization.
Doors to the chapel will open at 6:30 p.m. and a rosary will be recited. The event begins in earnest at 7 p.m. with the Rite of Eucharistic Exposition. At 8:15 p.m., the Rite of Eucharistic Benediction will take place and a social will follow in the atrium downstairs.
In a post on the Athenaeum's website, Dr. Tobias Nathe, assistant professor of moral theology and director of the St. James Project said the Friday night date was chosen to create a "counter-cultural" opportunity for young adults.
Vigil Praise follows the success of Encounter, a one-night intensive experience geared at teens. Vigil Praise has a different structure, but will blend contemporary and traditional praise and worship.
"It's going to go a little bit deeper," Carey said of Vigil Praise. "We'll have things like night prayer there. It's a little bit more broad in its scope… This is a little bit more of a community coming together from all different parts of the church."
Worship is a central element to Vigil Praise, but socialization is important too. The social afterward will be an opportunity for young adult Catholics to network, or even meet someone special.
"Being out in Denver, where there is such a great Catholic community for people in their 20s and 30s, and then coming here, it seems very spread out," he said. "Each parish has its own thing in small pockets of people. My hope is this gives a chance for people to really come together and meet."
Carey, who joined the Office of the New Evangelization in March, previously worked in Colorado where he saw first-hand the success of Vigil Praise.
"There are people from all walks of life who have gotten something out of this before out in Denver," he said. "One of the coolest things that came out of it out there is it really did integrate guys that were in the seminary out there into the overall Catholic community."
Posted April 20, 2015