Visiting missionaries share experiences at area parishes: Meet Sister Swarna Latha Vennabusa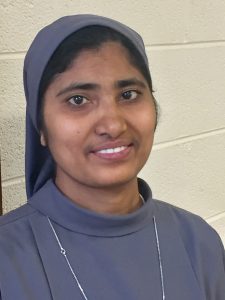 Sister Swarna Latha Vennabusa is a member of the Sisters of Christ the Light, Christu Jyothi, from southern India.
"By birth I am not a Christian, but I became one when my whole family converted from Hinduism, thanks to the remarkable kindness of a Catholic priest," said Sister Swarna. "My God gave me a second life by healing even at the point of death. This is the truth: my faith and prayers of my parents helped to make me what I am today — to be Christ's witness through my life in the world. I and my religious congregation serve the poor and needy who live in poverty without education and reading skills."
Her community also works with hearing and speech impaired children, orphans, and women in formation who come from low-income families. "I thank your archbishop and the Mission Office for permitting me to share my zeal and enthusiasm for my mission," Sister Swarna said.