Vocation to Love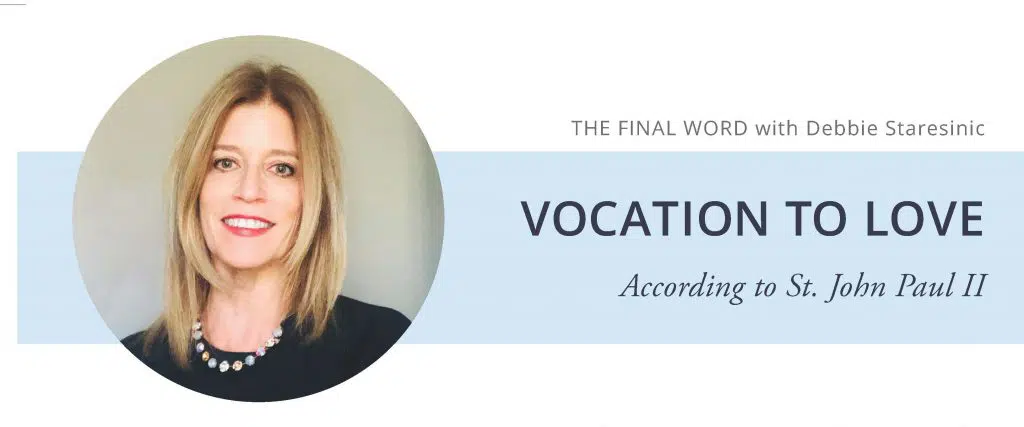 "Man cannot live without love. He remains a being that is incomprehensible for himself, his life is senseless, if love is not revealed to him, if he does not encounter love, if he does not experience it and make it his own, if he does not participate intimately in it." – Pope St. John Paul II
According to the Catechism of the Catholic Church, the common vocation of Christians is to become holy and evangelize (CCC 1533). According to Pope St. John Paul II's "Theology of the Body," the ultimate vocation of all Christians is to make a gift of ourselves to others. There is, of course, no conflict between the two – both point to a vocation to love. The universal vocation to holiness is, in fact, the universal vocation to love. It is to love Christ so much that we do whatever we can to become more holy, and then love others so much that we do whatever we can to bring the message of Christ to the world.
WHAT IS LOVE?

The Bible tells us that God is love. If you're Catholic, you've probably heard this phrase dozens of times. These words are so familiar that we may hear them without allowing the wonder of their meaning to register. How is it that God is love?
Our Christian faith informs us that God is a communion of three distinct persons in a relationship of love. The fact that there are three persons in one God is a mystery, one that we will only fully understand in heaven. Yet we can learn about love by looking at the Trinity. Created in God's image, we are called to be in a loving relationship with God and one another.
The Second Vatican Council, under the influence of Karol Wojtyla, developed our understanding of love by linking the "willing of another's good" to "self-gift." To will another's good requires that, among other goods we desire for them we also desire to give them our very selves. In short, we love by willing the good of the other and by making a gift of ourselves to them.
Pope St. John Paul II repeats the theme of self-gift throughout his writings referring often to one of his favorite passages from Vatican II: "Man cannot find himself except through a sincere gift of self." (Gaudium et Spes, 24)
Self-gift is how we fulfill the meaning of our existence. In his Letter on the Dignity and Vocation of Women, Pope St. John Paul II writes, "To say that man is created in the image and likeness of God means that man is called to exist 'for' others, to become a gift." (Mulieris Dignitatem, 7)
GOD'S LOVE THROUGH OUR UNIQUE VOCATION
As Christians, we received our primary vocation through the sacraments of initiation, but we are not all called to live out this vocation in the same manner. Each one of us is called to love and evangelize in a unique way. Whether one's path is to be married, ordained as a priest or deacon, consecrated as a religious brother or sister, or whether one is single and still discerning, the purpose of the journey is the same. We are called to live a life of love and holiness through a sincere and fruitful gift of self to others.
Only when we view human love through the lens of divine love can the mystery of love begin to unfold in our lives. To the extent that our hearts reflect God's love, we will experience the joy for which we have been created. Here in this life and for eternity in heaven.
DEBBIE STARESINIC is the founder of On a Mission to Love and author of Theology of the Body Rosary Meditations and On a Mission to Love: Rosary Meditations for Children and Families. Debbie and her husband Dan live in Mason and are blessed by their four children and six grandchildren.