Weather doesn't dampen opportunity as Badin preps for new student center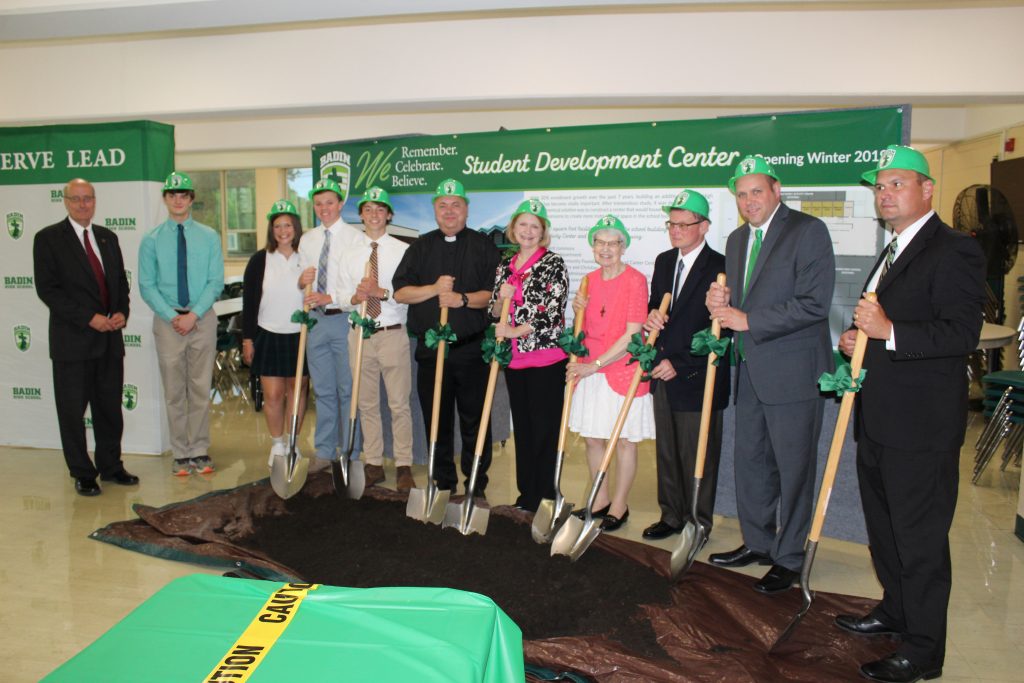 Badin's experience goes hand-in-hand with the City of Hamilton experience, Hamilton Mayor Pat Moeller said Wednesday, June 13 as he helped celebrate the official groundbreaking for Badin High School's new Student Development Center.
The SDC is a $1.8 million project that will connect the main building, built in 1966, with the Pfirman Family Activity Center, built in 2006.
While the groundbreaking ceremony had to be moved indoors to the school's cafeteria because of threatening weather, that didn't dampen the celebration as some 75 people were on hand to applaud the effort.
Principal Brian Pendergest noted that the Student Development Center had been one of the priorities identified in the school's Strategic Plan initiative that had kicked off the We Remember, We Celebrate, We Believe fundraising campaign in the fall of 2015.
"Our ongoing goal is to be a model Catholic high school as we teach our students to think, achieve, serve and lead," he said.
"This is an exciting day," said Ed Larkin, a 1988 Badin graduate who is chairman of the school's board of trustees. "The Student Development Center will support student activities for the next 50 years."
The 8,000-square foot center will include the Guidance Department and the Hamilton Community Foundation's College and Career Center; Campus Ministry and Christian Service offices; and the Advancement, Admissions, Marketing, Alumni and Athletic offices. In addition, it will feature a Student Commons with meeting areas, study tables and work stations for the Badin student body.
The new Student Development Center is expected to be a locus of student activity, while at the same time adding to the security of the campus as students will no longer have to go outside to travel between buildings.
"It's great to come to Badin for wonderful events like these," said Suzy Gibbons, superintendent of schools for the Archdiocese of Cincinnati, which boasts the fifth-largest Catholic school enrollment in the country. "Your enrollment is increasing and you are bucking the (downward growth) trend, and that's wonderful to see.
"Badin has done it the right way," she added. "You have big aspirations, but you have not bitten off more than you can chew."
Badin's enrollment has grown every year since 2010. For the 2018-19 school year, Badin's enrollment will be more than 600 students for the first time in 13 years.
SHP Leading Design is coordinating the building effort. It is expected to get underway by mid-July, with a projected finish by Christmas. Offices will move into the new facility in time for the return of students following Christmas break on Jan. 7, 2019.
"May this new building create lots of smiles and memories," Mayor Moeller said, before a group of dignitaries turned shovels of dirt on a tarp in the cafeteria.
The real dirt will begin turning soon, as "continuous improvement" marches on at Badin High School.
Badin is a co-ed Catholic high school located on New London Road in Hamilton. It was named after Father Stephen T. Badin, the first priest ordained in the United States. Father Badin had a parish in Hamilton late in life (1850) and is buried at the University of Notre Dame.
Badin High opened in the fall of 1966, the merger of all-boys Hamilton Catholic and all-girls Notre Dame High School. Both of those buildings still stand. Hamilton Catholic is now the headquarters of the Hamilton City School District on Dayton Street, while Notre Dame is senior citizen housing on Second Street.