Elder High School hires new Director of Admissions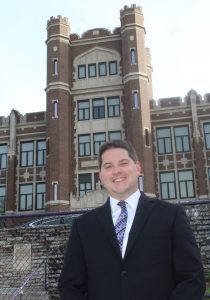 Alumnus brings marketing, recruitment experience to position
Elder High School announced that Brian Hiles has accepted the position of Director of Admissions.
A 2003 alumnus of the school, Hiles brings with him a wealth of knowledge and experience in relationship building, special event planning, and youth recruitment. Currently serving as the Director of Development and Marketing at the Hearing Speech and Deaf Center of Greater Cincinnati, Hiles has developed important skills necessary for his new role at Elder. Besides managing and cultivating a large donor portfolio, he also founded and executed new special events, worked closely with the organization's Board of Directors, and planned and developed new marketing outreach initiatives, including an improved social media presence, updated quarterly newsletters, and enhanced email communication.
Additionally, Hiles' past recruiting experience with the Dan Beard Council of the Boy Scouts of America from 2009 to 2014 will be put to good use. Responsible for the annual recruiting campaigns for youth in grades 1-12 in 136 schools in Northern Kentucky, 62 schools in Warren County, and 28 schools within the City of Cincinnati, Hiles helped the organization's numbers grow each year. As a result of his efforts, he was recognized as the Employee of the Year in 2010 and again in 2012. Hiles attributes his success to his ability to develop strong relationships with school administrators across a wide range of demographics and communities.
Hiles is looking forward to joining his alma mater in his new role, "I am excited to build upon nearly 100 years of Elder's tradition and reputation as a school that teaches young men to be hard working and successful members of our community. I look forward to great success in bringing new generations of young men to experience the countless opportunities Elder has to offer."
Principal Kurt Ruffing welcomes the addition to his staff, "We are excited to have Brian join the Elder family! As a student here, he was heavily involved in many student organizations. So having 'lived' Elder as a student and since then having developed such a skill set professionally, we feel that Brian is a natural fit for this position and will excel as our new Director of Admissions."
Hiles and his wife Amanda live in Green Township with their children Thatcher and Tinsley. Hiles will officially begin his new role at Elder on July 16, 2018.