Week 7 standings and week 8 opponents for Catholic high school football teams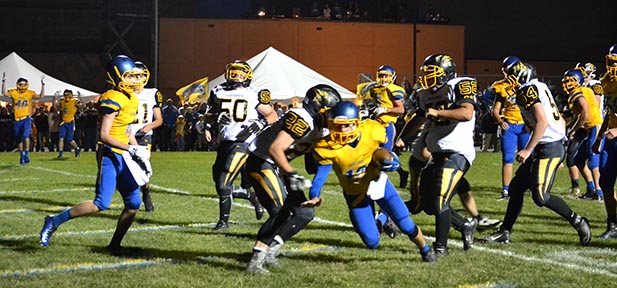 Staff Report
And then there was one.
Bishop Fenwick stands as the only unbeaten Catholic high school football team in the Archdiocese of Cincinnati and its 7-0 record means the Falcons control their own destiny as far as the playoffs are concerned. Fenwick hosts 2-5 Roger Bacon tonight.
Speaking of the playoffs, if the season ended today eight of the 15 schools listed below would play in week 11. The entire GCL South would be in with St. Xavier (5), Elder (7) and Moeller (16) set to make it in Division I, Region 2 and La Salle (6-1) also controls its destiny as the top team in Division II, Region 6.
For the rest of the playoff picture, see below. Schools marked with an * would make the playoffs if the season ended today. Of note, according to the prep sports website JoeEitel.com, none of the schools below are mathematically eliminated.
Here are the standings through week seven with week eight's opponents listed. For more information on game dates, times and location, see the HS football Master Schedule. Dates and times are subject to change.
Fun Fact: St. Xavier ended La Salle's win streak last week, clinching at least a share of the GCL South league championship. If La Salle beats Elder in week 10, the Lancers and Bombers will share the title.
Team                                  Week 6 Record                Week 7 opponent
GCL Co-Ed Standings
North
Fenwick*                                  7-0 (4-0)                   Roger Bacon (3-4)
Alter*                                       6-1 (3-1)                   McNicholas (3-4)
Carroll                                     4-3 (2-2)                   Purcell Marian (2-5)
Chaminade Julienne                 2-5 (2-2)                   Badin (5-2)
Central
Badin*                                     5-2 (2-2)                        at Chaminade Julienne (2-5)
McNicholas                            3-4 (2-2)                       at Alter (6-1)
Purcell Marian                        2-5 (1-3)                       at Carroll (4-3)
Roger Bacon                           3-4 (0-4)                      at Fenwick (7-0)

GCL South
St. Xavier*                               5-2 (2-1)                      at Warren Central (IN) (4-3)
LaSalle*                                   6-1 (1-1)                     St. Charles (3-4)
Elder*                                      5-2 (1-1)                      at Winton Woods (4-2)
Moeller*                                   3-4 (1-2)                      at Cleveland St. Ignatius (4-2)
Other Catholic Schools
Lehman Catholic*                      4-3 (3-1 NCC)               at Fort Loramie (3-4)
Catholic Central                       3-4 (1-3 OHC)                at Cedarville (1-6)
Summit  Country Day              3-4 (0-2 MVC)                 at Clark Montessori (2-5)
* would make playoffs if season ended today.
Posted October 16, 2015