Week 8 standings and week 9 opponents for Catholic high school football teams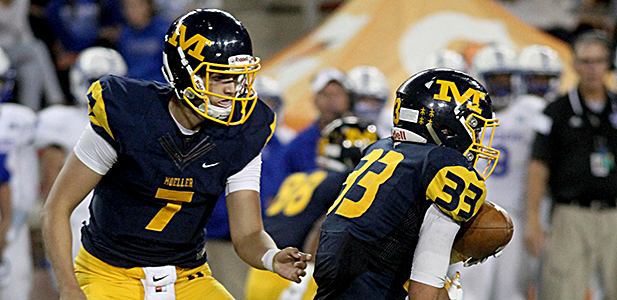 Staff Report
There are just two weeks left in the OHSAA football season, but everyone has something on the line. Eight of the 15 schools below would make the playoffs if the season ended today and others still have a chance. None of the schools listed have clinched outright league championships just yet, and even on teams out of contention, seniors always play for pride.
This weekend's game to watch is is Moeller at Lakewood St. Edward. The Crusaders are down this year but the team plays such a tough schedule that even with a .500 record (4-4) Moeller is holding onto the last playoff spot in Division I, Region II. Lakewood St. Edward, a Division I school with a 7-1 record, would be a big win for Moeller as it tries to make the post season.
Speaking of playoffs, La Salle (7-1) and Bishop Fenwick (8-0) have both locked up postseason berths regardless of the rest of the season.
For the rest of the playoff picture, see below. Schools marked with an * would make the playoffs if the season ended today. Of note, according to the prep sports website JoeEitel.com, of the schools below, only Chaminade Julienne has been mathematically eliminated from postseason contention.
Here are the standings through week eight with week nine's opponents listed. For more information on game dates, times and location, see the HS football Master Schedule. Dates and times are subject to change.
Fun Fact: According to the Middletown Journal-News, Bishop Fenwick's 8-0 start is the best in school history. The Falcons are ranked No. 2 in the Associated Press Division IV state poll behind only Steubenville.
Team                                  Week 8 Record                Week 9 opponent
GCL Co-Ed Standings
North
Fenwick*                                  8-0 (5-0)                   at Chaminade Julienne (2-6)
Alter*                                       7-1 (4-1)                   Carroll (5-3)
Carroll                                     5-3 (3-2)                   at Alter (7-1)
Chaminade Julienne                 2-6 (2-3)                   Fenwick (8-0)
Central
Badin*                                     6-2 (3-2)                        at Purcell Marian (2-6)
McNicholas                            3-5 (2-3)                       at Roger Bacon (3-5)
Purcell Marian                        2-6 (1-4)                       Badin (6-2)
Roger Bacon                           3-5 (0-5)                      McNicholas (3-5)

GCL South
St. Xavier*                               5-3 (2-1)                      at Cle. St. Ignatius (4-3)
LaSalle*                                   7-1 (1-1)                     Winton Woods (5-2)
Elder*                                      5-3 (1-1)                      DePaul Catholic (NJ) (2-4)
Moeller*                                   4-4 (1-2)                      at Lakewood St. Edward (7-1)
Other Catholic Schools
Lehman Catholic*                      4-4 (3-2 NCC)               Ridgemont (3-5)
Catholic Central                       4-4 (2-3 OHC)                Manchester (1-7)
Summit  Country Day              3-5 (0-3 MVC)                 North College Hill (2-6)
* would make playoffs if season ended today.
Posted October 23, 2015