Week 9 standings and week 10 opponents for Catholic high school football teams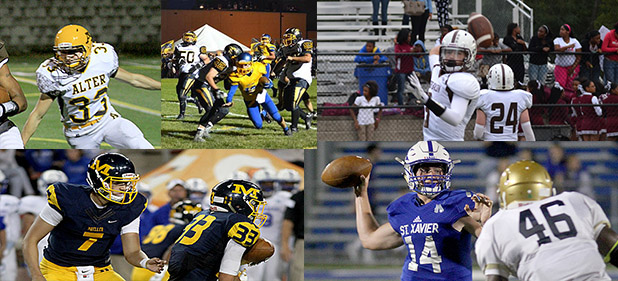 Staff Report
For many teams, this is it. Week 10 marks the end of the regular season but not everyone is going home after the lights shut off this weekend. Here's a look at the playoff and league championship situations for Catholic high school football teams heading into the final week.
GCL-Co Ed
North
Fenwick faces league rival Carroll this weekend and if the Falcons win, they'll wrap up a perfect season. Fenwick has already clinched a home playoff game for week 11 and is likely to be the No. 1 seed in Division IV, Region 14 if it wins tonight. A win tonight would also lockup sole possession of the GCL North Division championship for the Falcons.
If Fenwick falls, and Alter wins, the Knights and Falcons will share the north title. Like Fenwick, Alter has locked up a playoff position already regardless of this weekend's outcomes. Chaminade Julienne is out of playoff contention and, barring a near-miraculous confluence of events, so is Carroll.
Central
Badin stands alone as GCL-Co Ed Central champion already, and the Rams control their own playoff destiny. If Badin beats McNicholas this weekend, they'll be playing in week 11. McNicholas, Purcell Marian and Roger Bacon are eliminated from playoff contention.
GCL South
The four-team GCL South has every member in playoff contention heading into week 10. La Salle (8-1) has locked up the No. 1 seed in Division II, Region 6 and Elder and St. Xavier control their own destiny in Division I, Region 2. Moeller currently sits two spots outside the playoffs looking in, and cannot pick up many points even with a win against Canada Prep. Still, with some help, all four teams could make the playoffs.
This weekend's game to watch concerns the GCL South title. St. Xavier is assured a share, while Elder and La Salle's matchup tonight will determine which of them will be co-champion.
Other
For the non-GCL Catholic schools, only Lehman Catholic looks likely to make the postseason. The Cavaliers sit sixth (top 8 make the playoffs) in Division VII, Region 26 but even a win against Waynesfield-Goshen (0-9) tonight doesn't make them a lock.
Catholic Central (4-5) has a tough fight against West Liberty Salem (7-2) but with a win and some help, they aren't mathematically out of the playoff scenario in the same region as Lehman Catholic.
Summit Country Day has been eliminated from contention.
All playoff scenarios can be found on JoeEitel.com.
Below are the standings through week nine with week 10's opponents listed. For more information on game dates, times and location, see the HS football Master Schedule. Dates and times are subject to change.
Fun Fact: Two of the best players in the GCL share a last name. Badin's Zach Larkin leads the Rams as quarterback, throwing for nearly 1,500 yards and 17 touchdowns this season. La Salle's Jeremy Larkin is top-tier running back who scored four touchdowns last week. Both players need big games this weekend for their teams to finish the season on a high-note.
Team                                  Week 9 Record                Week 10 opponent
GCL Co-Ed Standings
North
Fenwick                                  9-0 (6-0)                   Carroll (5-4)
Alter                                       8-1 (5-1)                   at Chaminade Julienne (2-7)
Carroll                                     5-4 (3-3)                   at Fenwick (9-0)
Chaminade Julienne                 2-7 (2-4)                   Alter (8-1)
Central
Badin                                     7-2 (4-2)                        at McNicholas (4-5)
McNicholas                            4-5 (3-3)                       Badin (7-2)
Purcell Marian                        2-7 (1-5)                       at Roger Bacon (3-6)
Roger Bacon                           3-6 (0-6)                      Purcell Marian (2-7)

GCL South
St. Xavier                               5-4 (2-1)                      at Louisville St. Xavier (6-3)
LaSalle                                   8-1 (1-1)                     Elder (6-3)
Elder                                      6-3 (1-1)                      at La Salle (8-1)
Moeller                                   4-5 (1-2)                      Canada Prep (Ontario) (0-5)
Other Catholic Schools
Lehman Catholic                      5-4 (4-2 NCC)               Waynesfield Goshen (0-9)
Catholic Central                       4-5 (2-4 OHC)                at West Liberty-Salem (7-2)
Summit  Country Day              3-6 (0-5 MVC)                 St. Bernard Elmwood Place (3-5)
Posted October 30, 2015