West side students participate in Construction Camp
June 28, 2012
ARCHDIOCESE — Liz Sweet, who is entering the seventh grade at St. Lawrence School, described her week at Price Hill Construction Camp: "Monday we made the floors of the shed, Tuesday we made the indoor walls; Wednesday we did the outdoor walls; today we are welding and building the outdoor walls a little bit more."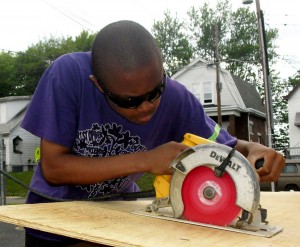 What was it like learning to weld? "It was pretty awesome," she said.
Sweet was one of 18 middle school children from the west side who spent part of June hammering, sawing and welding their way toward the construction of a garden shed.
When they complete the 6-by-8 foot deluxe shed — which will come equipped with a sink, ceiling fan, windows with shutters, and even a birdhouse — they will have reinforced their math and reading skills as they follow blueprints and cut to measure; learned the importance of work readiness skills, such as starting each day on time and following instructions, and been introduced to construction as a career.
Construction Camp, now in its second year, is supported by the Spirit of Construction Foundation and the SC Ministry Foundation. Volunteers from Associated Builders and Contractors were on site every day instructing the children. Anne Mitchell, construction industry advocate for the Southwest Ohio Region Workforce Investment Board, organizes the camp each year, as well as after-school Construction Clubs at Cincinnati public and Catholic middle schools.
The purpose of Construction Camp and Construction Clubs is to educate children about the potential of careers in construction, and encourage them to stay in school. The kids this year come from Resurrection and St. Lawrence schools in Price Hill, as well as several other public schools.
"Construction Camp is great!" said Kayman Murray, who is going into the sixth grade at Resurrection.
"You make new friends and learn to help each other," added Ione Sally, who is entering the seventh grade at St. Lawrence.
"We could not do this without the support of the Spirit of Construction and SC Ministry," said Mitchell. "And the commitment of our volunteers from ABC makes our camp possible. The kids learn so much here, and they will have a real sense of accomplishment when the shed is built."
Price Hill Construction Camp continued through June 22 at Resurrection School.