Wick Ach to Chair 2012 CISE Campaign
April 10, 2012
ARCHDIOCESE — Archbishop Dennis Schnurr and the Advisory Board of the Catholic Inner-City Schools Education Fund (CISE) are pleased to announce that Mr. J. Wickliffe (Wick) Ach will be serving as the 2012 CISE Campaign Chairman.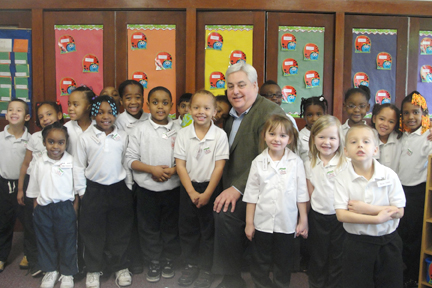 This spring, Mr. Ach visited all the CISE schools to meet the students and staff. At the conclusion of his visits, he said, "The CISE schools are making a remarkable and positive difference in the lives of the students. The school leaders, teachers, and other staff are entrepreneurial, innovative thinkers and it is exciting to see the "magic" they are creating at each school. These kids will be positive influences on our community, helping to shape its future."
Mr. Ach is the President and Chief Executive Officer of Hixson, a Cincinnati-based architecture, engineering and interior design firm, and serves on several corporate and non-profit boards. CISE is very grateful that he has agreed to devote his talents to the 2012 campaign.
The annual campaign is the major source of funding for CISE, which provides tuition assistance, operating support and enrichment programs for the CISE elementary schools. The CISE Campaign will officially kick off on September 6, 2012 with a celebration at the Great American Ball Park. However, Mr. Ach is eager to get started and has been reaching out to the community for assistance in reaching this year's $2,500,000 goal. Mr. Ach and other volunteers will be contacting local businesses, foundations and individuals on behalf of the CISE Fund.  CISE is looking forward to a very successful 2012 Campaign with Mr. Ach's leadership.
Over 1,600 children at nine Catholic elementary schools in Cincinnati's urban neighborhoods will benefit from the CISE program during the 2012 – 2013 school year. Nearly ninety percent of these students live below the poverty level. In addition, there are over 200 graduates of CISE schools attending local Catholic high schools with the help of grants from CISE donors.
The CISE schools are St. Francis Seraph in Over-the-Rhine, St. Francis de Sales in East Walnut Hills, St. Boniface in Northside, St. Joseph in the West End, Corryville Catholic, Resurrection in Price Hill, Holy Family in East Price Hill, Prince of Peace in Madisonville and St. Lawrence in Price Hill.
For more information about CISE, call 513-421-3131, ext. 2755 or go to www.cisefund.org.