Year of Consecrated Life to open with Mass Nov. 30 in Dayton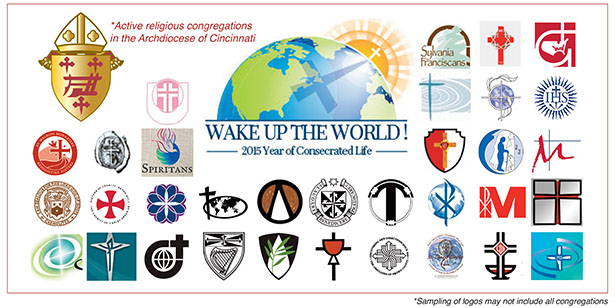 Staff Report
The Archdiocese of Cincinnati, in union with the Catholic Church around the world, will celebrate members of religious orders and others in consecrated life during the Year of Consecrated Life called by Pope Francis from Nov. 30, 2014 to Feb. 2, 2016.
In addition to parish-wide observances, there will be two Archdiocesan events to mark the Year of Consecrated Life. Auxiliary Bishop Joseph R. Binzer will preside at the opening Mass at 10:30 a.m. Sunday, Nov. 30, at Emmanuel Church in Dayton. Sister of Notre Dame de Namur Marilyn Kerber and Chaminade Julienne religion teacher Marianist Sister Nicole Trahan will proclaim the first and second readings. Precious Blood Brother Matt Schaefer will read the Intercessions.
Archbishop Schnurr will preside at the closing Mass at 11 a.m. Sunday, Jan. 31, 2016 at the Cathedral of St. Peter in Chains in Cincinnati.
The theme for the celebration in the Archdiocese, reflecting the Pope's goals for the Year, is "Celebrating the Past, Serving in the Present, Embracing the Future."
"Each of us has a call from God, and discovering God's call for us will bring joy to our life," Archbishop of Cincinnati Dennis M. Schnurr said. "Religious life/consecrated life is a viable option."
The objectives Archbishop Schnurr has approved for the local observance of the year are to: increase the visibility of religious life / consecrated life; express appreciation; highlight the joy experienced in this vocational choice; educate about religious life / consecrated life.
"The Archdiocese of Cincinnati has a long and rich history of welcoming religious communities," Archbishop Schnurr said, noting as examples that the Sisters of Notre Dame de Namur who are celebrating 175 years and the Poor Clare Sisters 25 years in the Archdiocese in 2015. "Today 34 different Congregations of women and 12 different Congregations of brothers and priests minister in the Archdiocese – approximately 226 priests, 114 brothers, and 781 sisters. We are also blessed with the presence of Secular Institutes, public (Regnum Christi) and private associations (Children of Mary) of the faithful, and a Consecrated Virgin Living in the World. All of those are examples of the consecrated life."
Posted Nov. 25, 2014