Yordy named fourth head coach in Badin High football history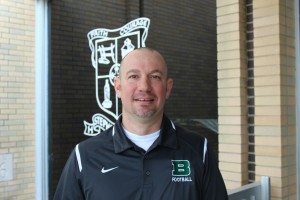 Nick Yordy got the phone call a few weeks ago that he was going into the Badin High School Athletic Hall of Fame. The 1997 BHS grad got an even more life-changing phone call on Friday, when he was offered the head football coaching job at Badin.
"I'm excited," said Yordy, who will be only the fourth head football coach at Badin since its opening in 1966-67. "When I went into coaching, the one place I wanted to be head coach was Badin High School. That it's happened is great. … It's humbling."
Yordy has been the offensive coordinator at Mount Healthy High School for the past seven years. Before that, he was an assistant at Ross High for one year and at New Miami High for seven years.
"I'm excited to see the next phase of Badin football," said BHS Athletic Director Geoff Melzer '87. "Nick has been successful everywhere he's been, and we know he'll bring energy and enthusiasm to the program."
Yordy steps in for Bill Tenore '88, who was replaced after going 51-38 over eight seasons that included five trips to the playoffs. Dave Wirth (five seasons) and Terry Malone (38 seasons at Badin) also preceded Yordy at the BHS helm.
Yordy played for Malone and was a standout running back on the 1995 squad that went 11-2 and lost in the Division III state semifinals to Clyde, 16-6.
"It was great to play for Coach Malone," Yordy said. "He was definitely an influential person in my life, especially in my decision to teach and coach."
Malone – the winningest coach in the history of Ohio high school football when he retired following the 2003 season — passed away at the age of 83 on Saturday, Jan. 14, and Yordy acknowledged, "in light of the events of the past week, to be named the next head football coach at Badin is certainly a neat experience."
"We're pleased to have Nick Yordy head up our football program," BHS Principal Brian Pendergest '90 said. "He's had great success in coaching, and as a Badin grad he understands the value of Catholic identity in our sports program. We know he's going to continue to uphold the proud tradition of Badin High School football."
Yordy said that all three phases of football – offense, defense and special teams – were critical to a team's success.
"On offense, we want to control the ball, control the clock and execute," he said. "On defense, we want to get to the ball with a purpose. And we want to emphasize good special teams because a lot of games are won and lost on special teams.
"Having gone to Badin and experienced what Badin football is all about is obviously a plus," Yordy added. "I've taken little pieces of knowledge from everywhere I've coached to help me get an idea of what my plan would look like when I became a head coach. I'm going to do everything I can to help maintain the Badin tradition."
Yordy holds the Badin school record for most touchdowns in a game (five), returned a kickoff 97-yards for a touchdown, and was named the Most Valuable Player for the 1996 Rams that went 7-3. He started in leftfield on the Badin baseball team that won the Division II state title in 1996. He went on to play football for four years at Thomas More College.
Yordy will join four others in being inducted into the Badin Athletic Hall of Fame on Saturday, April 29, at a celebration dinner in Badin's Pfirman Family Activity Center.
Yordy has a master's degree in education from Marygrove College in Michigan and is completing his administrator's certification at the University of Cincinnati. He teaches math at Mount Healthy Junior High.
Nick and his wife, Emily, are the parents of three sons and live in Ross Township. He is a member of Queen of Peace parish.