Youth program to pilot this summer: Totus Tuus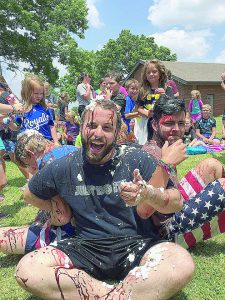 Missionary program encompasses whole parishes, changes lives
By Gail Finke
A "totally" Catholic summer program for first grade through high school is coming to a dozen area parishes this year.
Totus Tuus (Latin for "totally yours," the papal motto of Pope St. John Paul II) celebrates its 30th anniversary in 2017. Originally developed by a seminarian in the Diocese of Wichita, Ks,, the week-long program is now taught by seminarians and college student missionaries who live, eat, and work with parish families. It has now spread to 27 dioceses in 15 states and Canada, mostly by word of mouth.
Successful in other programs such as NET for youth and FOCUS for college students, the missionary approach to parish evangelization combines catechesis with personal witness. Program organizers for all such groups often describe their missionaries as "on fire for the faith."
Andrea Patch is helping to run the program here. Now the coordinator for digital evangelization for the archdiocese, she spent two years with Totus Tuus, summers she described as "the hardest and best summers of my life."
Already involved with youth ministry, Patch said, she found herself immersed in living and teaching in a whole new way that included daily Mass, extended periods of prayer, and study of both Scripture and theology. "It came alive for me," she said. "Totus Tuus transformed my understanding of my faith. It completely changed my life."
Fr. David Doseck will help coordinate the program in the archdiocese has worked as Totus Tuus missionaries and said he was also transformed by the experience.
"I developed lifelong friendships and learned what it means to work together allowing the same Spirit of Christ to guide and direct all of our individual gifts and talents for God's glory and building up the Kingdom of God.," he said. "It gave me many more blessings than I could have ever imagined."
Parishes bringing in the missionaries can expect the same results that transformed a small Kansas parish 30 years ago, said Veronica Hill, program coordinator for Totus Tuus in Wichita and national liaison for dioceses implementing it. "It started at a parish that didn't have a school," she said. "Bernie Gorges – now Father Gorges – realized he was the only seminarian the kids had ever seen. He made a huge impact because he was a young person really living his faith."
The program quickly developed into an organized Marian and Eucharist-centered program that has the potential to involve an entire parish. Missionaries (also called teachers) work in teams of two men and two women They conduct related programs for elementary school-aged children during the day and junior high- and high school-aged youth in the evenings, while living and eating with parish host families. The whole parish shares a potluck meal on one weeknight.
"It's so beautiful to see the life of the church lived out," Patch said. "Teachers see family life lived in many homes. And married people and families see young people on fire with their faith."
Based on five pillars (Eucharist, Mary, catechesis, vocations, and fun), the program emphasizes the sacraments, witness, the Gospel, and church teachings. Presentations are geared to the students' ages. The children's program, for example, explores the Eucharist by daily Mass, while the youth program spends time in eucharistic adoration.
Totus Tuus missionaries are paid, and the program costs parishes $1,500, in addition to volunteer hosting duties and expenses. It also requires a priest to say Mass daily. But the program touches every member of a parish, Patch pointed out, and requires little staff work.
"The DREs get to enjoy the program, or do other work," she said. "The team handles everything."
After three decades, the fruits of Totus Tuus are becoming clear. Patch said youth programs often take off after just the one week. One parish she worked with had no youth activities beyond CCD class. "After Totus Tuus, the kids decided that they wanted to keep going to Mass together," she said. "They created 'Worship Wednesday.' They would go to morning Mass, have breakfast together, go to school, and then come back together in the evening for religion class."
The program has also helped its teachers find their vocations. Many former teachers are now signing their own children up, Hill said, or helping to start the program at their parishes. Others have discerned a call to religious life or to the priesthood. Wichita itself has ordained 10 deacons and 10 priests who were missionaries, and this year 90 percent of its seminarians are former Totus Tuus teachers.
At press time, parishes were still signing up to be one of the 12 that will pilot the program. Those parishes, Hill said, can expect to see lives transformed. "So often, our kids are bombarded with messages that faith isn't cool," she said. "But Totus Tuus brings in four college kids on fire for the faith. They're not only teaching sound theology, they're sharing the joy of the faith. For the week, faith is the coolest thing.
"That's the power of missionaries going to a parish. We come in and say, 'You don't have to go to Steubenville, you don't have to go to a conferences for this type of faith! You can have it right where you are.'"
For more information about Totus Tuus, and to watch a video introduction featuring Archbishop Dennis M. Schnurr, click here
To find out where summer camps are being held in 2017, click here