40 Days for Life fall campaign underway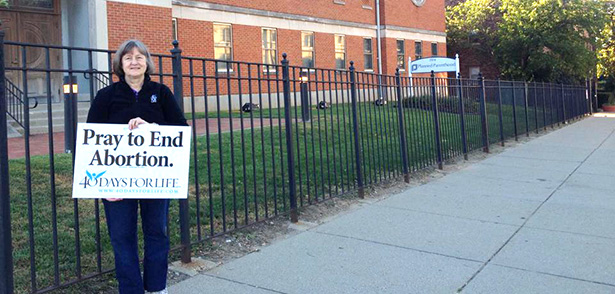 By John Stegeman
The Catholic Telegraph 
What began as a prayer vigil outside a single Texas abortion clinic 10 years ago began again Sept. 24 in 297 locations across 13 countries. 40 Days for Life's mission is to draw attention to the evil of abortion through prayer & fasting, constant vigil and community outreach.
The fall 40 Days for Life campaign started Wednesday, Sept. 24, and runs through Nov. 2. During those 40 days from 7 a.m. to 7 p.m. at least one person will stand vigil outside the designated locations to pray and witness to a message of life.
40 Days for Life vigils are taking place at three locations within the Archdiocese of Cincinnati.
In the Dayton area, the vigil is on the public right of way outside the Women's Medical Center at 1401 East Stroop Road in Kettering. In Sharonville a vigil is taking place on a grassy area outside the Women's Medical Center there, 11250 Lebanon Road. In Cincinnati, a vigil is underway on the public right of way outside Planned Parenthood at 2314 Auburn Avenue. All three local campaigns had kickoff events last weekend.
In Cincinnati, the campaign officially began 24 minutes before sunrise Wednesday at Auburn Avenue with the first volunteer. Mary Clark, coordinator for the Cincinnati 40 Days for Life campaign was on the scene by 8 a.m.
40 Days for Life, though run primarily by Christians, is a non-denominational outreach and people of all faiths are welcome to join. While people are welcome to just stop by and pray, organizers ask that those interested sign up at 40DaysForLife.com.
"It would be very helpful (to sign up) because we are committed to covering 7 a.m. to 7 p.m. for 40 days straight," said Clark. "That way we know if someone is coming and I can contact them and see if they need a sign or prayer materials."
Since 40 Days for Life went national in 2007, more than 50 abortion clinics have been closed and 101 abortion workers have quit their jobs. More than a half million volunteers have participated, and the organization claims nearly 9,000 babies saved from abortion.
Clark acknowledged that first-time volunteers are often nervous, but she added there is no requirement to engage any passer by.
"We don't ask anyone to have to come and talk to people here, we just ask them to come and pray," she said. "As Father Frank Pavone says, 'You just have to get there…' This is a very busy place so you have a lot of chances to witness to those passing by."
40 Days for Life volunteers are asked to abide by a "Statement of Peace" pleading to pursue peaceful solutions to the violence of abortion, to show compassion and reflect the love of Jesus Christ to all they encounter, to not damage private property and to not threaten, touch or abuse any facility worker or customer, among other things.
To learn more about 40 Days for Life or to sign up to pray, visit their website.
 Posted Sept. 24, 2014