A Personal Touch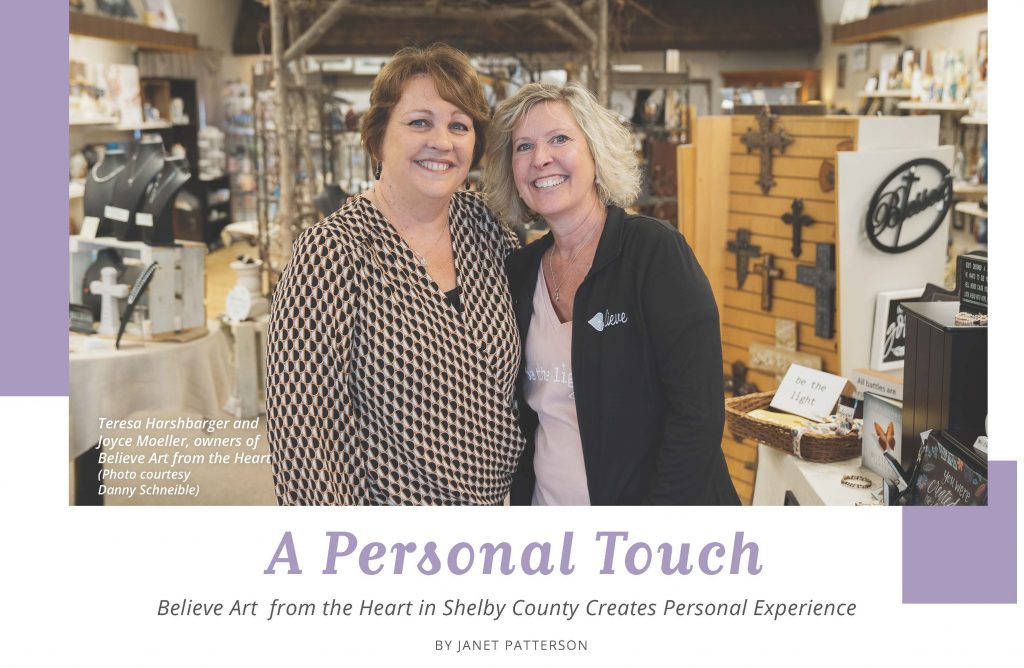 When Teresa Harshbarger created a rosary for her niece's wedding 18 years ago, little did she dream she was answering a call.
"The day I showed it to my mom, she very quietly said, 'I have a feeling you're going to be making lots of rosaries.'" To Harshbarger's surprise, one lovingly created rosary was the first step in founding Believe Art from the Heart.
It all started while praying about where God might be calling her in the next season of her life. With a master's degree in education, she was certain that would mean going back to the classroom. Instead, the mother of five young children said she had the clear sense that God was calling her to create jewelry.
Even though Harshbarger knew nothing about making jewelry, she heeded the message when both a friend and a family member felt the same call. The group created a collection of signature jewelry pieces that told a story of God's love for creation, and thus, Believe Art from the Heart was born.
The next thing they knew, they were renovating a retail space that had been a garden center on County Road 25-A south of the village of Anna in Shelby County. Now, the brightly painted shop that once housed garden tractors and lawnmowers is a workshop for both beads and souls.
"This is art from the heart of God to our hearts," Harshbarger said. "We never want this to be just a business. This is a ministry."
Together Harshbarger and Joyce Moeller, with the help of a cadre of volunteers, have created a space where anyone can sit and talk about faith and prayer, and create a one-of-a-kind rosary, bracelet or necklace. And each is marked with the Believe silver heart, a symbol of God's love.
"Our goal is to immerse each person in the love of God," Harshbarger said.
The rosary corner of the shop is a comfortable place to pick out the color of the beads and the design of the cross, and to consider what the rosary is. "We talk about how we pray it and why we pray it. It's a teaching moment," Harshbarger said. "But it's also about how uniquely and wonderfully God has made each one of us."
Beads, crosses and materials come in a variety of colors, materials and designs. "Some children may want the rosary in their favorite color, or the color of their birthstone. One child wanted it in camouflage colors, and it turned out just beautiful."
Harshbarger said price ranges can be determined when making an appointment for the consultation. "We take our time with each customer. One little boy spent 10 minutes picking out the crucifix for his rosary because he looked at the details on each one."
Believe rosaries can be created for special moments such as First Communion Confirmation, weddings and anniversaries.
After the consultation, the rosary is handcrafted and prepared for delivery, complete with a scripture card specifically for that piece.
Behind the shop is a butterfly-themed tearoom where the Believe team hosts gatherings as small as two people, or as large as a prayer or study group. Harshbarger said they also host school groups to mark the seasons of the Church year.
No appointment is necessary to stop into the shop where, in addition to rosaries and handcrafted jewelry, there are inspirational books, wall art, clothing items and toys all carefully selected by the Believe team. "Every item we have in the shop we pray about first," she said. "And we use local artisans as much as we can."
Hours at Believe Art from the Heart are Tuesday and Thursday 11 a.m. to 7 p.m., Wednesday and Friday from 11 a.m. to 5 p.m. and Saturday from 9 a.m. to noon. Learn more at www.believeartfromtheheart.com.
This article appeared in the July 2021 edition of The Catholic Telegraph Magazine. For your complimentary subscription, click here.