Annual Blue Mass to honor fallen police, fire & safety personnel this Sunday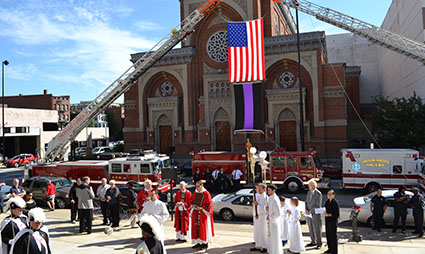 Press Release
Archdiocese of Cincinnati
The Cathedral of St. Peter in Chains in downtown Cincinnati invites all Greater Cincinnati police, fire, and public safety personnel, their families and friends, and the whole community to the 11th annual Blue Mass celebration on Sunday, Sept. 27.
Cincinnati Firefighter Daryl Gordon and Cincinnati Police Officer Sonny Kim, both killed in the line of duty, will be honored during Mass as the names of police and fire personnel who have died in the past year are read.
Father Steve Angi, police chaplain, will preside. A blessing and procession will begin at 10:45 a.m., with Mass at 11 a.m. People of all faiths are invited to pray for the men and women whose dedicated service assists our community and for those who have given the ultimate sacrifice to save others. The ceremony ends with a light reception on the Plum Street plaza.
The Roman Catholic Archdiocese of Cincinnati is the 38th largest Catholic diocese in the country, with almost 500,000 Catholics, and has the sixth largest network of Catholic schools in terms of enrollment. The 19-county territory includes 211 parishes and 111 Catholic primary and secondary schools.
Posted Sept. 25, 2015