Archbishop Schnurr announces new mission, vision statements for the Archdiocese of Cincinnati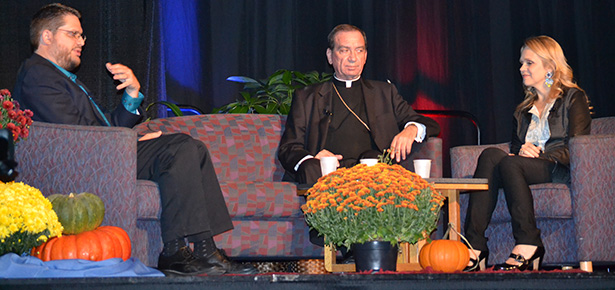 By John Stegeman
The Catholic Telegraph 
DAYTON — Speaking at an informal event after the first day of the Archdiocese of Cincinnati "Proclaim" conference in Dayton on Monday, Archbishop Dennis M. Schnurr announced new mission and vision statements for the archdiocese.
Acknowledging that the church of this archdiocese, and the universal Church, stand "in the stream of time," the archbishop said that the New Evangelization belongs to everyone.
The event, entitled Contagiously Catholic, featured singer Tajci Cameron as Emcee and performer. The stage in the main exhibit hall at the Dayton Convention Center had a Tonight Show feel with Cameron interviewing Sean Ater, director of the Office of the New Evangelization, and Archbishop Schnurr on couches below a big screen.
"We have to discover Christ and who Christ is in our own lives before we can go out and bring him to others," Archbishop Schnurr said. "We cannot go out with long faces talking about Christ and saying Christ brings a message of joy."
The official mission and vision statements are listed below.
Mission statement — "Ours is the enduring mission of the Universal Catholic Church: To preach the Gospel, bringing Jesus Christ to all the people through Word and Sacrament."

Vision Statement — "Our vision in the New Evangelization: Calling pastoral leaders and the faithful to a renewed encounter and deepened personal relationship with Jesus Christ lived within the Catholic Community, a relationship marked by missionary discipleship and Christian witness."
"The archdiocese is going to meet and talk about next steps," said Ater. "There's a lot of hard work to be done. We got the idea, now is figuring out how to do it, although we do have a new evangelization plan that is a big part of it."
Day two of "Proclaim" will begin Tuesday, Oct. 7 at 8 a.m. at the Dayton Convention Center.
Posted Oct. 6, 2014