Archbishop Schnurr: Support Pontifical Mission Societies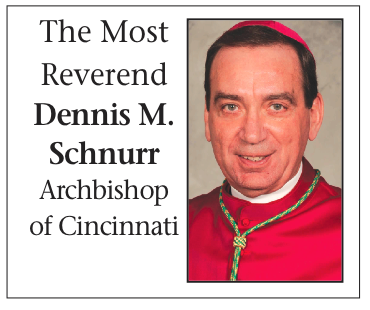 A Letter from The Most Reverend Dennis M. Schnurr, Archbishop of Cincinnati
Dear Sisters and Brothers in Christ,
In his World Mission Sunday message for 2013, Pope Francis writes, "Everyone should be able to experience the joy of being loved by God, the joy of salvation! It is a gift that one cannot keep to oneself, but it is to be shared. If we want to keep it only to ourselves, we will become isolated, sterile and sick Christians. The proclamation of the Gospel is part of being disciples of Christ and it is a constant commitment that animates the whole life of the Church. Missionary outreach is a clear sign of the maturity of an ecclesial community." 
The Holy Father also points out, "The concern for all the Churches, that the Bishop of Rome shares with his brother Bishops, finds an important expression in the activity of the Pontifical Mission Societies, which are meant to animate and deepen the missionary conscience of every baptized Christian, and of every community, by reminding them of the need for a more profound missionary formation of the whole People of God and by encouraging the Christian community to contribute to the spread of the Gospel in the world."
As the Archbishop of Cincinnati, I share the Holy Father's wish that we support the Pontifical Mission Societies. I encourage you to offer a personal gift through the annual World Mission Sunday collection at your parish on October 20. Your contribution supports 1,150 mission dioceses in their efforts to help spread God's love in very concrete ways.
With our donations 80,000 seminarians and 9,000 sisters and brothers can continue in their formation to bring others into a loving relationship with Christ. Our gifts also help religious sisters reach out to some of the 12 million children caught up in abuse, street begging and human trafficking that the Holy Father calls, "a despicable activity, a disgrace for our societies."
I also invite you to a special World Mission Sunday Mass, October 20, 3:30 at St. Maximilian Kolbe Parish in Liberty Township, followed by a reception. For details, you may visit the website of our local Mission Office at www.catholiccincinnati.org/mission.
Sincerely yours in Christ,
Dennis M. Schnurr
Archbishop of Cincinnati
This letter originally appeared in the October 2013 edition of The Catholic Telegraph