Archbishop Schnurr urges participation in day of prayer for peace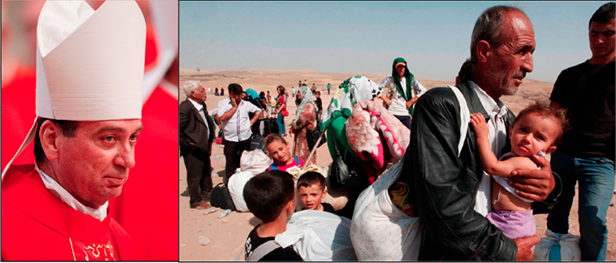 Staff Report
Heeding Pope Francis' call, Archbishop of Cincinnati Dennis M. Schnurr released a statement Wednesday expressing hope that Catholics under his jurisdiction will participate in the pope's day of fasting and prayer for peace concerning the conflict in Syria.
Pope Francis announced that on Saturday, Sept. 7, St. Peter's Square will play host to a prayer vigil.
"We will gather in prayer and in a spirit of penance, invoking God's great gift of peace upon the beloved nation of Syria and upon each situation of conflict and violence around the world," the pope said Sept. 1, before praying the noon Angelus with a crowd in the square. "Humanity needs to see these gestures of peace and to hear words of hope and peace."
On Sept. 4 Archbishop Schunrr released a statement through the Archdiocese of Cincinnati's Catholic Social Action Office newsletter saying that Catholics can help shape the world through prayer.
"I hope that Catholics in our Archdiocese will find a way to observe the Holy Father's urgent appeal for peace," the archbishop wrote. "As faithful citizens of our blessed democracy, Catholics of the Archdiocese have an instrumental role to play in shaping our world around the values of the Gospel through their prayers and advocacy."
The United States Conference of Catholic Bishops has also heeded the pope's call to participate, even creating a website of resources that people can use to join with the pope in prayer and action. For that website, click here.
The Catholic News Service contributed to this report.